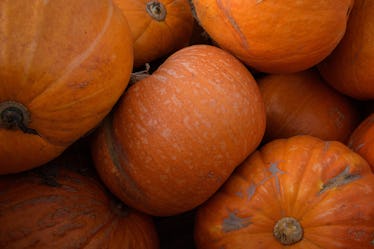 New Pumpkin Spice Liqueur Will Get You Lit This Fall
Leon Neal/Getty Images News/Getty Images
Just in case you had any doubts, pumpkin season is very much alive and well. Now is the time of year to indulge in the cinnamon-nutmeg combo everyone's come to love and crave... especially when it gets the 21+ treatment. Pumpkin Spice Liqueur is perfect for the fall, so grab your flannel shirt, a blanket, and get ready for a cup of the creamy goodness.
Aldi has decided to embrace all-things autumn with its latest offering: PSL (and no, the "l" isn't for "latte"). There's a lot to love about this new drink. For one, if you're feeling a bit warm — after all, 2017 is slated to have a hotter fall than usual — you can enjoy the Pumpkin Spice Irish Cream Liqueur over ice. On the off chance everyone's actually treated to real fall weather, feel free to get cozy by adding this bad boy into your cup of coffee. Delicious and versatile, wouldn't you say?
If the taste sounds inviting, just wait until you hear about the price tag. The new pumpkin treat is roughly $11.50 in the United States and £9 in the UK. It's the perfect gift to present to the host of your 2017 Halloween party, but check online to see its availability in the States before you get too excited. Once you've found an appropriate location, grab a bottle for your horror movie night with friends (and if you're feeling adventurous, add some whipped cream to the mix).
If you're wondering what other types of drinks have received a dose of pumpkin flavor, you're in luck. Canada's Lucky Bastard distillery put on its thinking cap and unleashed the PSL in alcohol form, so your 2017 costume bash is definitely going to be the most exciting party yet. Pumpkin Spice Vodka — 35 percent ABV and $39 a pop — is the perfect way to take your seasonal creations to new heights and enjoy a "boo-sy" treat. Perhaps you'll be on the same level as those basic witches soaring away on their brooms.
If you're feeling really inventive and want to show the many Pennywise clowns at your party who's boss, there are plenty of pumpkin spice flavored drinks to prepare. The Pumpkin Spice Hottail calls for two to three tablespoons of ground cinnamon, a drizzle of pumpkin spice syrup, the juice of an orange, hot apple cider, and bourbon — a perfectly spooktacular combination if ever there was one. Treat your friends to a magical martini with unsweetened pumpkin, fat-free condensed milk, and vodka. If you're really looking to go all-out, make sure you use the pumpkin spice vodka.
Now that the drink situation is settled, it's time to worry about the food. There are many snacks that have a taste of pumpkin, so fear not. Cookies, cheesecake, bread, cereal, and everything in between has gone crazy for fall, so stocking up at the grocery store will be as easy as pumpkin pie.
So now that you have the food and drinks settled, let's concentrate on your fall entertainment. These spooky stories will keep you up all night... if you dare to crack open the book. Looking to book a trip? We've got you covered (with ideas, that is). From old hotels to historic homes and even ships, there are many ghosts and ghouls willing to share their space with you. If you're brave enough, you can book a stay at one of these haunted locations. Just don't be surprised when the paranormal activity heats up.
Happy Halloween, pumpkin fans — enjoy your treats... and your screams.
Check out the entire Gen Why series and other videos on Facebook and the Bustle app across Apple TV, Roku, and Amazon Fire TV.