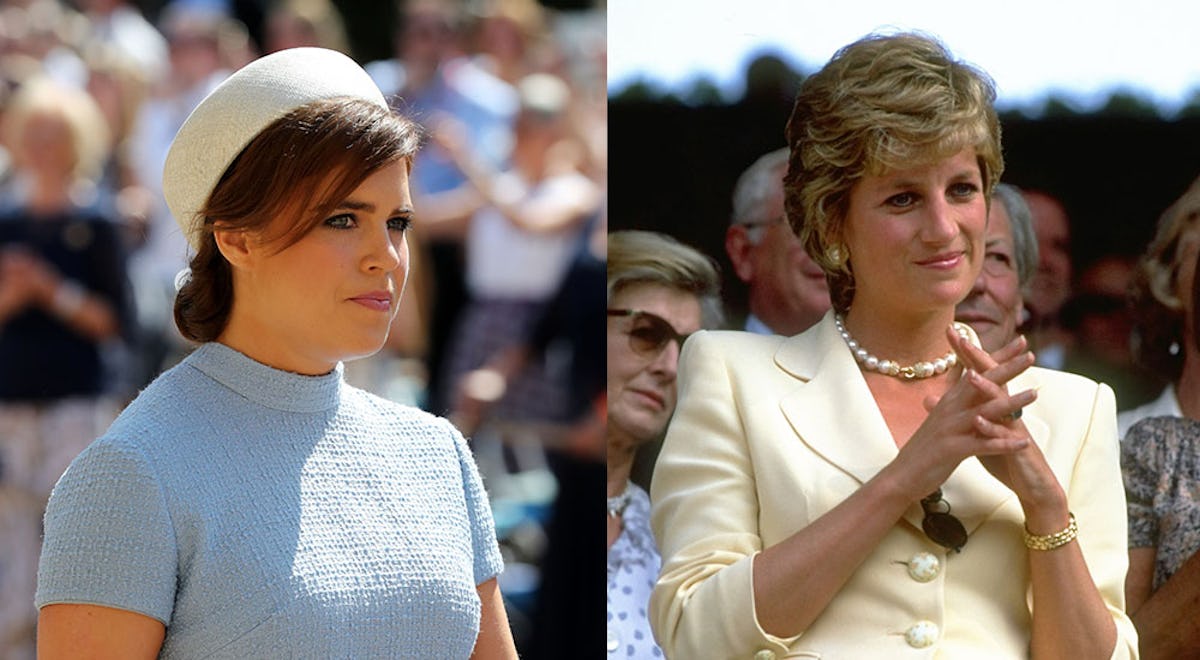 A Look At Princess Diana's Fashion Compared To Princess Eugenie's, From Go-To Pieces To Formal Gowns
WPA Pool/Getty Images Entertainment/Getty Images; Clive Brunskill/Getty Images Sport/Getty Images
Whenever a royal young woman has her bridal moment in the spotlight, we as a public have the tendency to compare her to one other well-loved British royal in particular: the late Princess Diana of Wales, with whom so many feel a connection to this day, despite her tragic, sudden death in 1997. As Princess Eugenie's wedding date approaches (she says "I do" on October 12!) I've found myself thinking about her in the context of Princess Diana and her legacy of — among other, more notable and charitable things — impeccable style. In fact, looking at Princess Diana's fashion compared to Prnicess Eugenie's is quite interesting considering not only their unique tastes, but how much has changed in the style world since so many of Diana's most iconic looks were debuted.
When both Kate Middleton and Meghan Markle announced their engagements to Diana's sons, Prince William and Prince Harry, respectively, people immediately began comparing the women to the late princess, many determining that she would most likely approve of both women as suitable partners for her beloved children. While Princess Eugenie isn't marrying into the royal family via one of Diana's sons — she's already royal by birth, thank you very much — it's still interesting to compare and contrast her with Princess Diana. Both women are and were undeniably beautiful, intelligent, and kind, but a deep dive into their differing senses of fashion proves style to be an area in which they slightly differed.
When it comes to Princess Diana's everyday look, she wouldn't be caught dead without perfectly coiffed locks, a two-piece skirt suit , and some shoulder pads:
In the Kensington Palace exhibit Diana: Her Fashion Story, many of Princess Diana's most iconic outfits are on display, including more than one skirt and suit jacket combo.
Another important thing about go-to favorite silhouette? She always wore this look sans patterns. Whether it was a pale yellow or a bold red, Diana rarely opted for florals or prints, and typically stuck to one color per look.
Princess Eugenie, on the other hand, is a total pattern fanatic. Her go-to look is usually a dress featuring a fitted waist, above-the-knee hemline, and some sort of colorful, statement print:
The floral Erdem dress she wore to anounce her engagement is a great example of Princess Eugenie's everyday, go-to look:
I did manage to find one photo of a beaded floral minidress on display at the exhibit of Diana's most-loved looks, so perhaps she would be a fan of Eugenie's go-to style:
And while Princess Di normally stuck to one bold color per ensemble, this stunning pink gown and matching bolero jacket feature an embellished floral design that Eugenie would most definitely ask to borrow:
Seriously, look at this incredible detailwork:
One thing the two princesses definitely have in common is the ability to pull off some seriously head-turning gowns:
I'm 100 percent positive that Diana would be a massive fan of this halter-neck black gown on Eugenie:
Hear me out: doesn't it look kinda similar to this dress of Diana's on display at the exhibit? Both women knew to embrace the magic of a stunning black halter-neck maxi, that's for sure:
Arguably the most iconic ensemble on display at the exhibit is Diana's extravagent wedding gown, which features sleeves I can only hope Princess Eugenie took inspo from when designing her own gown:
After Eugenie's wedding on October 12, I'll be able to compare her dress to Diana's in yet another example of the two's respective senses of style. Eugenie is known for statement looks, but I have a feeling her wedding gown will be slightly more low-key than Diana's. If one thing is certain, though, it's that both have pulled off an abundance of great looks in the past, and Princess Diana would undoubtedly approve of the fashionista her niece has become.