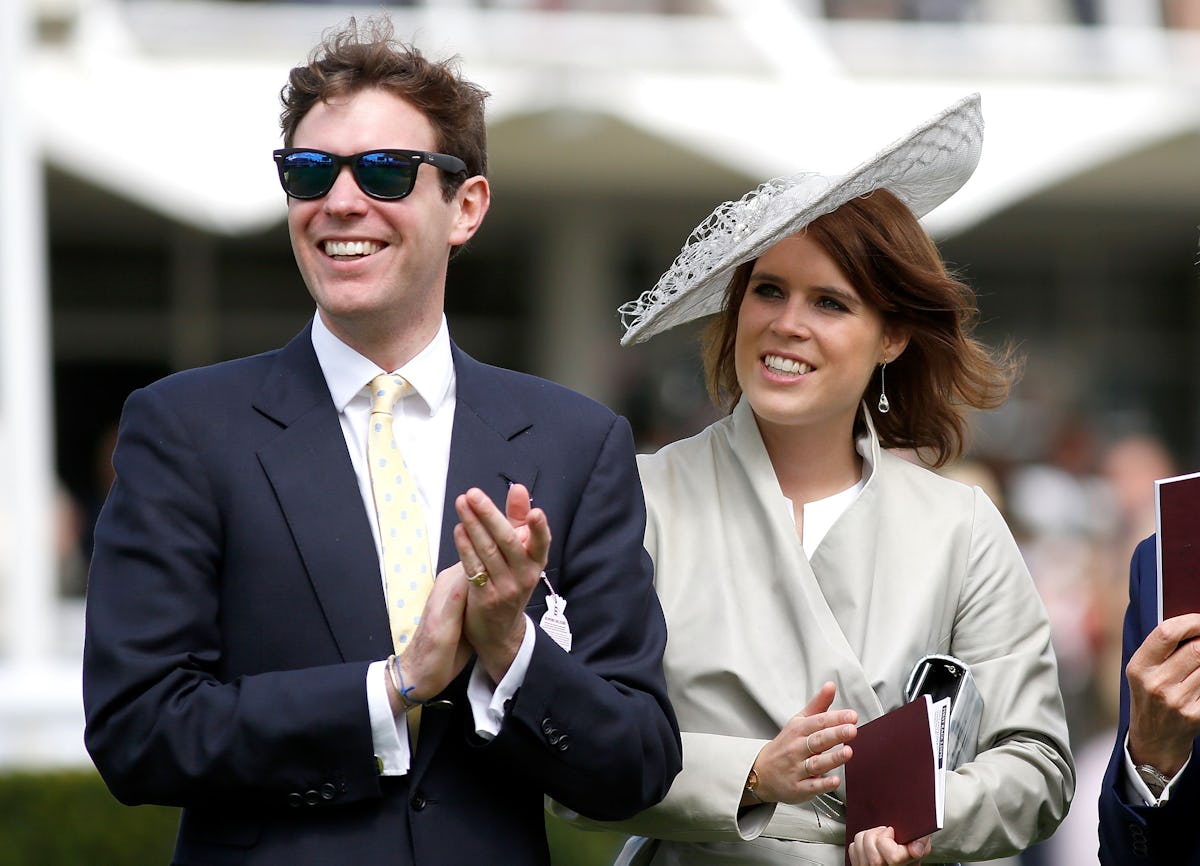 Here Are The Best Bets As To Who's Designing Princess Eugenie's Wedding Dress
Tristan Fewings/Getty Images Entertainment/Getty Images
You guys, the royal wedding is like, really soon — as in, just days away. And the closer we get to this Friday, the closer we are to finding out the answer to my most-asked question of the past few months: who's designing Princess Eugenie's wedding dress? The princess has been exceptionally tight-lipped about her gown, and even though I have faith it will be stunning, part of me still wants to know every little detail before I see it. Unfortunately, right now I know practically none of said little details, but from the information I have gathered, I do have a few suspicions as to who the designer might be. Let's discuss.
According to royal protocol — and confirmed via Princess Eugenie's interview with Vogue UK — the designer chosen is of course, British, so that does narrow down the possible options quite a bit. My gut-feeling, first-instinct pick has to be Erdem, since Princess Eugenie has worn dozens of their dresses over the years, including in her engagement announcement photos.
Erdem has always satisfied Princess Eugenie's itch for a good floral mini, but can they deliver on a royal bridal gown as well? I'm thinking yes:
However, Erdem are really known for their gorgeous colors, patterns and textures. Could they really pull off something so muted as a white dress?
"[The dress] is the one thing that I was really decisive about. As soon as we announced the wedding, I knew the designer, and the look, straight away," said Princess Eugenie in her Vogue UK interview. "I never thought I'd be the one who knew exactly what I like, but I've been pretty on top of it."
While I'm glad she's so sure, I'm over here completely unsure, because I have zero clue what designer she's decided to go with. Apparently, many are placing bets on boutique designer Suzannah as well as Jenny Packham as possible picks, with British betting side Ladbrookes ranking Erdem at 7/2 odds, Suzannah at 5/1 and Jenny Packham at 6/1 odds.
I can't find a reference photo of Eugenie wearing Suzannah, but here's a photo of her standing next to her sister, Princess Beatrice, who happens to be clad in a very Eugenie-esque, evergreen, floral Suzannah dress. I could totally see that lace in a white, more wedding-appropriate version!
Suzannah makes "alternative wedding dresses," and I can just picture Eugenie rocking one, since she has such a bold sense of style:
I can't seem to find a photo of Princess Eugenie in Jenny Packham either, but I know for a fact that Kate Middleton is a huge fan, seen here in a gorgeous, fairly bridal pick at the 2011 ARK Gala:
Eugenie would rock those sequins! The designer has also just unveiled (veil pun intended) her 2019 bridal collection, and the gowns are certainly fit for royalty:
Unfortunately, it seems that no matter how much I speculate, I won't know for sure who's designing the gown until the big day. TBH, I began this article in favor of Erdem, but after browsing all the beauty in Jenny Packham's 2019 bridal collection, I think I'm changing my bet. Regardless, I know Princess Eugenie will look stunning in whatever gown the designer of her choice creates, and I can't wait to live-Tweet my reaction when all the hidden wedding details are finally revealed on October 12.