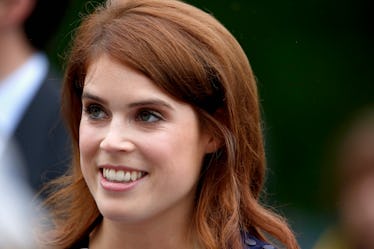 A Theory On Princess Eugenie's Wedding Gown, Based On Her Personal Style & Previous Gowns
Alan Crowhurst/Getty Images Entertainment/Getty Images
On Friday, Oct. 12, Princess Eugenie will wed Jack Brooksbank, and the occasion will be one worth celebrating regardless of her attire. Nevertheless, as her wedding day grows nearer, more and more fans of the royal family have started speculating about the details of her ~look~. Those of us who pride ourselves on being deeply invested in this sort of thing can't help but wonder, will Princess Eugenie wear lace at her wedding? While she go for satin, or perhaps tulle? I'm out here asking the hard-hitting questions, and I can't wait until Oct. 12 for answers.
Along with being proactive, generous, and intelligent, Princess Eugenie has a killer sense of style, gravitating toward bold colors and patterns and accessorizing with headpieces so strong, few other Brits can compete. Considering her flair, the public are expecting quite the wedding gown on her big day — but we haven't been given many hints as to exactly what she'll be wearing.
Fans of the royal did get a tiny bit of insight when Princess Eugenie spoke with British Vogue for her cover shoot, and briefly mentioned the process of selecting her gown. "[The dress] is the one thing that I was really decisive about. As soon as we announced the wedding, I knew the designer, and the look, straight away."
She continued, "I never thought I'd be the one who knew exactly what I like, but I've been pretty on top of it."
She did say it will definitely be a British designer, plus she wore an Erdem dress in her engagement announcement — perhaps she was foreshadowing an Erdem wedding gown?
Rather than start with a completely blank canvas whilst deciding, Princess Eugenie also had the luxury of being able to take a little inspo from other modern-day royal wedding gowns, like the dresses worn by Kate Middleton and, most recently, Meghan Markle.
For example, if Princess Eugenie has a thing for lace, it's possible she'll take a page from Kate Middleton's book. Middleton's gown, designed by Sarah Burton at Alexander McQueen, featured a corset-style bodice, a 9-foot train, long sleeves, and, of course, tons of beautiful, handmade lace.
See anything you like, Princess Eugenie? I bet you'd look stunning in a little lace!
Meghan Markle's gown, on the other hand, had just as much beauty, but with a much subtler flair. Designed by Claire Waight Keller for Givenchy, the dress utilized a double bonded silk cady fabric, and featured three-quarter-length sleeves and a boat neckline.
Princess Eugenie always wears bright, busy dresses, so a simple gown like Markle's would be a statement within itself:
However, many fashion experts are claiming that Princess Eugenie will probably stay true to her personal style and go for something more extravagant than Markle's more subdued (still stunning!) gown.
If she does choose to wear lace or any kind of pattern on her gown, I feel confident in my guess that it will most definitely be of the floral variety, as it's clear she loves a good flower print:
Regardless of its fabric, I'm fairly positive her gown will have sleeves. Middleton and Markle both went for longer sleeves on their big days, and Eugenie often wears sleeveless or cap-sleeve dresses, so it would be a nice change of pace.
Based on this red ensemble, we know she can rock a three-quarter sleeve! Maybe she'll copy Markle and have this length on her big day as well?
At this point, details on Princess Eugenie's gown are all purely speculation, and no one knows for sure what kind of look she'll be serving. As a major stan of her style, though, I'm confident she won't disappoint. Personally, I've got my fingers crossed for some sort of floral-lace Erdem dream dress, but whatever Princess Eugenie chooses will no doubt be a stunning pick.