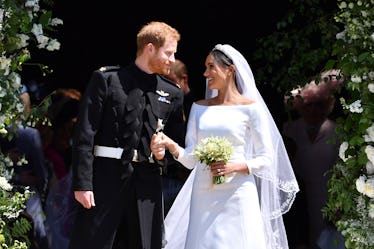 Here's How To See Meghan Markle's Wedding Dress & Tiara IRL For $28, Or Forever Hold Your Peace
WPA Pool/Getty Images Entertainment/Getty Images
After most women get married, they have their dress cleaned and stored in the back of their closet, likely never to be worn again. Meghan Markle is in the latter camp for that, but her white gown won't be forgotten about in a storage closet. Meghan Markle's wedding dress is a museum exhibit now, because who doesn't want to witness that sartorial glory IRL?
Markle's full wedding look (dress, veil, and tiara) will be on display later this year, accompanied by Prince Harry's uniform from the May 19 nuptials. These famous outfits are being handled by Royal Collection Trust, an organization which houses and cares for the royal family's artwork and other historic memorabilia.
The exhibit is titled, A Royal Wedding: The Duke and Duchess of Sussex, and the bride and groom's ensembles will be on display for public viewing at Windsor Castle from Oct. 26, 2018 to Jan. 6, 2019. If you're lucky enough to be in or around the London area during that time, book your tickets here. The exhibit will also be put on view at the Palace of Holyroodhouse in Edinburgh, Scotland later on in 2019, which, if you haven't heard, Scotland is gorgeous. If you're stuck in America like me (boring), check out some brand new close-up photos of the duke and duchess' attire!
Is that a drone shot of the couple? Talk about a modern royal wedding.
First up is Markle's wedding tiara, which is made of platinum and diamonds, with a detachable diamond brooch at the center. The brooch is from 1853 while the base of the tiara was made in 1932. Queen Elizabeth acquired the tiara in 1953, and lent it to Markle for her wedding.
Designed by Claire Waight Keller for Givenchy, Markle's wedding dress features the duchess' preferred boat neckline.
Markle's wedding veil actually has a lot of meaning behind it. It's made of silk tulle and is over 16 feet long. The veil is trimmed with embroidered flowers, which are representative of the 53 countries of the Commonwealth. Markle also chose to add the Wintersweet flower, which grows at Kensington Palace, and the California Poppy, the state's flower and where Markle was born.
"It took the team of embroiderers hundreds of hours to create the design, washing their hands every 30 minutes to keep the tulle and threads pristine," notes the Royal Collection Trust.
Markle's reception dress is unfortunately not part of the exhibit, as she likely is keeping this one for herself. Fair, TBH.
Prince Harry's wedding suit will also be on display – sort of. The Duke had his frockcoat uniform custom-made for his wedding, but apparently he needs to keep it to use for other official occasions. The same tailors who made the original, however, have made an identical replica for the exhibit.
Kate Middleton's wedding dress was also put on display after her 2011 wedding to Prince William, but more importantly, she went to view it with the queen. This means that Markle will probably take a stroll down memory lane with her grandmother-in-law as well, which means more photos of the world's favorite expat!
Adorbs.