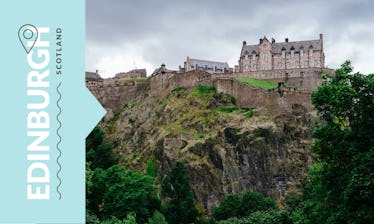 Wander or Bust: Edinburgh, Scotland Is The Most Beautiful Place You've Never Been
Wander or Bust is an Elite Daily travel series that follows young women all over the globe to record their journeys as they experience the thrill of the far-flung and unknown.
They'll track their budgets, where they stay, where they eat and drink, and where they took that amazing Instagram that got them ~maximum exposure.~ The internet is full of travel advice, but none from women just like you. Read on for the tips no one else gives you, and when in doubt, get on the plane.
Here's Misa Shikuma's Wander Or Bust guide to Edinburgh, Scotland.
My Name: Misa Shikuma
What I Do: Pastry cook and freelance writer
Where I Live: San Francisco, California
Where I Went: Edinburgh, Scotland
How Long I Stayed: 2 days, 2 nights
My Spending Style: Occasionally indulgent. I don't throw money around, but I will definitely splurge on more than a few expensive things on a vacation.
Where I Got My Recommendations:
Friends, Airbnb host, and the internet. Atlas Obscura and The Culture Trip are my favorites for travel tips.
Exchange Rate At Time Of Travel: $1 USD = €0.74 GBP
What That Looks Like IRL: $50 USD = €37 GBP
Preferred Payment Method: Credit card
Phone Bill: I made use of AT&T's international day pass, which charges $10 per day that I use text/voice/data while abroad.
Mode of Transport: Airplane
First I flew to Iceland for $400, then I took a plane from Reykjavik to Edinburgh and then a train out to Inverness.
Price: $400, $92, and $23 respectively.
Extra Costs: There was the tram I took from the airport into the city center, and the taxi from the Airbnb to the train station.
Transport Total: $515
Accommodation: Airbnb, a private room in a centrally located flat.
Location: Bellevue Cres, Edinburgh EH3 6ND, UK
Bellevue Crescent. It's a quiet residential area but an easy walk to the city center
Price: $31/night
Extra Costs: The service fee came to just under $4 per night.
Would I Recommend It To Someone Else: Yes! It was perfect for solo travelers and the host is great.
Accommodation Total: $70
Breakfast-Lunch Cost: $15/day
Thanks to the full Scottish breakfast in the morning, I usually skipped lunch and just had an afternoon coffee.
Dinner Cost: $30/day
It really depended on whether or not I took a pint of a local craft brew with it.
Average Total Cost: $45/day
Tip Situation: Scotland doesn't really have a tipping culture like the U.S. (or at least that's what the internet told me), however for exceptional service 10 percent is fine.
Food Situation:
Eating out seemed to be the norm. Many cafés offer a full Scottish breakfast (eggs, sausage, bacon, beans, tomato, toast, etc.) that's tasty and filling. Pub food (e.g. fish and chips, savory pies) are popular for dinner. All in all, the local cuisine is quite heavy and meat-rich.
Favorite Restaurant: The Kitchin
Location: 78 Commercial St, Edinburgh EH6 6LX, UK.
Price: Around $75 (for three-course set lunch, cocktail and coffee).
Honorable Mentions: The Kitchin is a one-Michelin starred restaurant that prides itself on using the freshest local ingredients. In fact, once you're seated, they give you a small printed map of Scotland that shows where all the components of your meal come from. The quality really shines through in each dish, and the service is impeccable.
Food Total: $150
Nightlife Situation:
There are tons of bars and pubs! I'm not into clubs, so I didn't look into that scene at all.
What People Wear Out:
It seemed pretty casual. There are of course people dressing up, but the general pub vibe was low-key.
Average Cost Of A Pint: $5.
Extra Cost To Know About: Not that I noticed.
Last Call: Midnight - 1 a.m.
Average Total Cost Of A Night Out: $10 if sticking to pubs, maybe more in the $15-20 range if going to cocktail bars.
Cheapest Bar I'd Actually Go Back To: I loved The Royal Dick at Summerhall (a former veterinary school turned arts and events venue). The beer is brewed and the gin is distilled on-site.
Going Out Total: $25
What I Spent A Lot On That Was Totally Worth It:
Apart from eating at The Kitchin, The Surgeons' Hall Museums (particularly the Wohl Pathology Museum) were fascinating and totally worth the admission cost ($8). In another life, I once wanted to be a doctor, so I think medical museums are awesome. Don't go if you're squeamish, though.
What I Spent A Lot On That Was Totally Not Worth It:
To be honest, there are so many things in Edinburgh that are absolutely free to explore. I had been advised that Edinburgh Castle isn't worth the entry fee ($23), so I just took pictures around the exterior.
What I Spent Little Or No Money On That Was Awesome:
Calton Hill offers amazing views of the city, and is less strenuous than Arthur's Seat. Harry Potter fans like myself will get a kick out of Victoria Street and Tom Riddle's grave in Greyfriars Kirkyard.
Favorite Thing I Did, Regardless Of Cost:
Visiting Summerhall was a highlight. I checked out some of the artwork first, then headed to the bar, where the bartender gave me tasting pours of all the beers on tap on the house. Edinburgh Ice Company happened to be there that day shooting a promotional video, which was pretty cool.
Hidden Gem I Found:
I recommend having breakfast at Bluebird Cafe, getting lost in the Royal Botanic Garden, and then heading over to Dean Village, in that order.
The Photo I Took That Got The Most Attention:
My photos of Victoria Street:
Excursions/Extras Total: $25
General Shopping: $0
Souvenirs: I like to keep menus from nice restaurants, so the map from The Kitchen is currently displayed on my fridge.
Souvenirs/Shopping Total: Nothing at all! Granted, this was in the middle of a six-week trip and my stuffed suitcase wouldn't have been able to accommodate additional items.
Best Edinburgh Hack:
Taxis are unnecessary, as public transportation is easy, cheap, and reliable. I didn't do any whisky tastings, as I headed to the Highlands where many of the distilleries are right after, but if your'e only staying in Edinburgh, that's definitely something worth checking out.
Advice For Anyone Traveling Alone:
I've traveled to over 30 countries, mostly on solo trips, and it's always incredibly liberating and rewarding. If you're feeling nervous about it, I recommend staying in a hostel, where it's easy to meet like-minded adventurers who are down to explore, wander, and get lost with you.
The Harry Potter books were a formative part of my childhood, so it was pretty special to see places like Victoria Street, which inspired Diagon Alley, and The Elephant House, the café where JK Rowling wrote the early books.
Total Trip Cost: $762
Worth It? Absolutely!