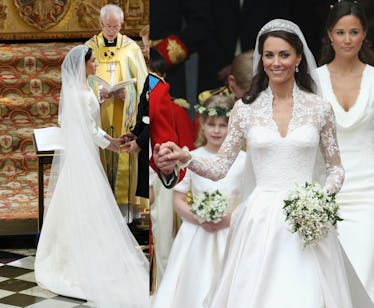 Photos Of Meghan Markle & Kate Middleton On Their Wedding Days Prove Royal Style Is In The Details
WPA Pool/Getty Images Entertainment/Getty Images Chris Jackson/Getty Images Entertainment/Getty Images
The day we've all been waiting for with bated breath has finally arrived, and the royal family has officially grown by one more. Yes, Prince Harry and Meghan Markle's long-awaited wedding day is here, and you better believe I was up bright and early not to miss anything, specifically Meghan Markle's dress. The princess-to-be absolutely stunned in her royal gown, and now, I can't help but compare Meghan Markle's wedding dress to Kate Middleton's wedding dress.
Don't worry, this is totally not a case of who wore it better or who was the best dressed. Rather, both dresses are so gorgeous, but such different styles that it's impossible not to see how the two compare to each other in terms of the style, the details, and the fit. From their hairstyles down to their trains, each royal rocked in their own way.
Leading up the big day, most people assumed Markle's dress would be vastly different from Middleton's. After all, Middleton's own wedding was seven years ago, so wedding dress trends have changed quite a bit, and the two differ slightly in terms of their personal styles. Middleton loves color, patterns, and to play with different types of textures and fabrics, whereas Markle is known more for her structured midi coats and neutral color palette. And now that we've seen Markle's gown, no one is disappointed.
But first, let's review the garb Catherine, Duchess of Cambridge donned on her fateful day.
Kate Middleton's Wedding Dress
Middleton's nuptials gown was so classically her that I hope I can match that same level of energy on my own wedding day. I remember way back in 2011, when she stepped out of the carriage, I couldn't believe how spot on the dress design was — in terms of how closely it seemed to match her personal style preferences. The Alexander McQueen dress was designed by Sarah Burton, and Middleton worked closely with Burton to craft a stylish look that still adhered to royal wedding fashion standards. In fact, that's one of the things I loved most about Middleton's dress — how well it mixed both traditional and modern fashion elements, with subtle tributes to England.
Alexander McQueen is known to feature Victorian-inspired corsetry, and Middleton's gown was no exception. In fact, according to The New York Times, in order to offset Middleton's narrower waist, Burton added extra padding to the hip area of the dress to create an exaggerated silhouette (similar to one created by a corset). The lace on Middleton's dress also paid homage to the United Kingdom. The intricate design included roses, daffodils, thistles, and shamrocks, according to the Official Royal Wedding website. These are reminiscent of the four countries in the United Kingdom: England, Wales, Scotland, and Northern Ireland. CBS reports that the dress was rumored to cost over $434,000 to make.
Royal brides are expected to maintain a level of modesty and respect for tradition on their big day, which is why wedding dresses with long sleeves are such a long-standing trend. While most modern-day brides (aside from royal ones) have opted to wear strapless gowns, it's no doubt that royal wedding gowns inspire design trends for the seasons to come. After 2011, many designers immediately created replicas of Kate Middleton's own dress in anticipation of public demand.
Meghan Markle's Wedding Dress
Even though the world has only just seen Meghan Markle's wedding dress, I think it's safe to say that this stunning gown will be inspiring new wedding dress designs for months, if not years, to come. While altogether quite simple, the Givenchy by Clare Waight Keller dress proves you don't need lace to slay. Markle looks like the picture of sophistication and refinement with its simple bodice and slightly off-the-shoulder neckline. And in keeping with royal standards, she also sported long sleeves that stop just shy of her wrists.
Paired with a dramatic, floor-length veil and gleaming tiara on loan from the Queen, Markle's dress boasts an almost '70s esque vibe that will delight any minimalist. As for how it compares with Middleton's wedding gown, it couldn't be more different, from the looser, relaxed fit down to the simple, glossy texture.
As many viewers noticed, Markle wore her hair in a relaxed, messy bun, which contrasts strikingly with Middleton's well-coiffed wedding day curls. On her big day, Middleton opted to do her own makeup after taking lessons from a makeup artist friend, while Markle relied on the talent of Daniel Martin, a well-known celebrity makeup artist. Despite their disparate approaches to their royal wedding day styles, both Markle and Middleton displayed a remarkable amount of grace and beauty.
You could even call them two queens.