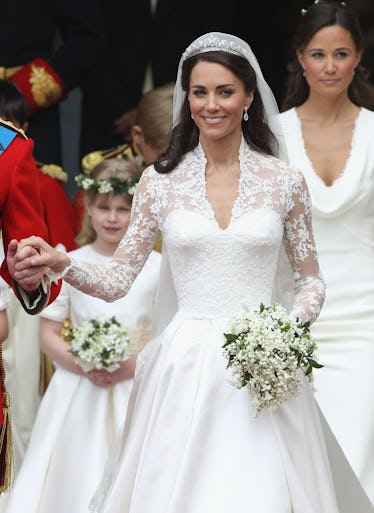 Here Are The Tiny Details You Didn't Notice On Kate Middleton's Wedding Dress
Chris Jackson/Getty Images Entertainment/Getty Images
We're swiftly closing in on Saturday, May 19, 2018, the day of the long-anticipated royal wedding between Prince Harry and Meghan Markle. While we slowly learn all the details about the big day, including everything from the cake to the invitations to the rumored designer of Meghan Markle's own wedding gown, why not take a quick trip down memory lane and revisit a royal wedding that took place not too long ago: Kate Middleton's. One of the memories forever etched into my brain from Kate and Prince William's wedding is the photos of Kate Middleton's wedding gown. Seriously, I still haven't picked my jaw up off the ground since the moment she first stepped out in it.
On April 29, 2011, Kate Middleton married the Duke of Cambridge wearing an Alexander McQueen gown, which is estimated to have cost over $430,000, according to CBS. With a structured, lace upper bodice, a voluminous satin skirt with a lengthy train, and a sheer lace covering for Middleton's arms and shoulders, let's just say Kate managed to successfully bridge the gap between modest expectations and Fashion with a capital F. If you don't believe me, these photos of her gown absolutely prove it.
In addition to the floral lace detailing on the bodice, one tiny detail you might've missed is that the lower portion of Kate's wedding dress featured lace appliqués with a similar floral design, as did the hem of her veil. In fact, the work that went into the lace design on Middleton's dress is more involved than you might realize. According to the Official Royal Wedding webite, the lace appliqués were hand cut and applied onto the gown, and the overall lace design "incorporates the rose, thistle, daffodil and shamrock." The Huffington Post reports this small design element is meant to represent the four countries making up the United Kingdom.
While designers who recreated Kate's wedding gown for mass retail were a little, um, underwhelmed by the public's response to being able to purchase a similar gown (according to The New York Post, most consumers believed the look "wasn't sexy" enough), the silhouette of her gown held important meaning. Good Housekeeping reports that Kate Middleton's long-sleeved silhouette was perhaps a nod to previous royals, like Queen Elizabeth II and Grace Kelly, who both wore fitted long sleeves on their wedding day.
When it comes to the train on Kate's dress, if you think it looks long in the photo above, just let me tell you the actual length of it. The Royal Wedding website states the gown's train was a whopping "two metres 70 centimetres" long, which shakes out to a little under 9 feet! While that's longer than I could ever imagine my own wedding dress' train being (I'm clumsy, OK?), Princess Diana's train made Kate's look teeny tiny. According to Good Housekeeping, Diana's train was over 20 feet long.
Another lesser-known fact about Kate's dress, particularly the bodice, is that underneath the dress, Kate wore a bit of padding to bulk up a certain area. No, not that area... or that one. Rather, Kate's dress featured padding around the hips. According to the New York Times, this was to slightly increase the illusion of the bodice being a corset, a Victorian tradition and well-known Alexander McQueen style. This particular design choice was a prime example of Kate's desire to abide by royal tradition, while still maintaining a sense of her own, more current style.
As we approach this year's royal wedding, it's still undetermined who will be designing Meghan Markle's gown and whether or not she'll abide by royal fashion traditions with a more traditional dress. But one thing's for sure: Just as Kate Middleton stunned us all with her look on her big day, it's safe to say Meghan Markle will do the same, regardless of what she wears.