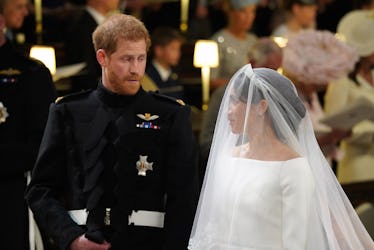 Meghan Markle Wore A Tiara At Her Wedding & It Was The Cherry On Top Of Her Look
WPA Pool/Getty Images Entertainment/Getty Images
Meghan Markle has fit into the royal family so seamlessly, it's easy to forget she wasn't a legitimate part of it until now. A marker of her status change, however, sat prominently atop her head during her wedding to Prince Harry. Meghan Markle's tiara was the best bling with which to complete her wedding look and mark her entrance as a married woman into the British royal family.
Per a long-standing tradition, female royalty may only wear tiaras once they are married, or during their wedding. Even women born into the royal family (ahem, Princess Charlotte) are not permitted to rock a tiara before they become a Mrs. Jewelry expert Geoffrey Munn spoke to Town & Country and gave insight into this custom, "The tiara has its roots in classical antiquity and was seen as an emblem of the loss of innocence to the crowning of love." Munn continues that once married and technically allowed to wear tiaras, women can't go around wearing them every day of the week, "It is not the owner that triggers the wearing of tiaras but the event at which they are worn." Tiaras are a particularly special royal accessory, and should be saved for such occasions — namely, Meghan Markle's wedding day.
As was revealed from the moment Markle made her first appearance on the day of the royal wedding, she has indeed chosen to wear a tiara!
It is common for royal brides to borrow a tiara from the family's existing collection. Markle had the option to do this or to have a new creation designed for her special day. Out of the several tiaras Markle could've chosen from — The Cambridge Lover's Knot, The Spencer Tiara, The Cartier Halo Tiara, The Diamond Fringe Tiara, or The Strathmore Rose Tiara, just to name a few — it seems that Markle's tiara comes from the family. According to the official Royal Wedding website, Markle's "something borrowed" is actually Queen Mary's diamond bandeau, which Queen Elizabeth allowed her to wear for the big day. The site states that "the diamond bandeau is English and was made in 1932, with the centre brooch dating from 1893."
Kate Middleton similarly made her tiara debut on the day of her wedding to Prince William in 2011. Middleton wore the Cartier Halo Tiara, which was made in 1936 and was bought as a gift by Queen Elizabeth's father for her mother. Queen Elizabeth received the crown when she turned 18 (I can't relate) and then lent it to Middleton to wear down the aisle. Even if Markle may have wanted to wear this same stunner, the queen was unable to accommodate, as it's currently on loan to the National Gallery of Australia.
Princess Diana also followed protocol and didn't touch a tiara until her wedding to Prince Charles. Diana didn't need to borrow from the queen, however, as her headpiece was supplied by her own family. The Spencer Tiara was a gift to Diana's grandmother on her wedding day, was then passed down through the family, and Diana was able to wear it for her own nuptials. Neither Middleton nor Markle have worn this tiara, as it still belongs to Diana's family, the Spencers. In fact, no one has worn it since Diana's death in 1997.
Princess Diana's headpiece aside, Markle now has access to way more tiaras than I do, and I hope she's got lots of big occasions coming up so I can see her wear all the jewels. And I think it's safe to say that Markle's tiara choice for today is the cherry on top of a classic, timeless look.