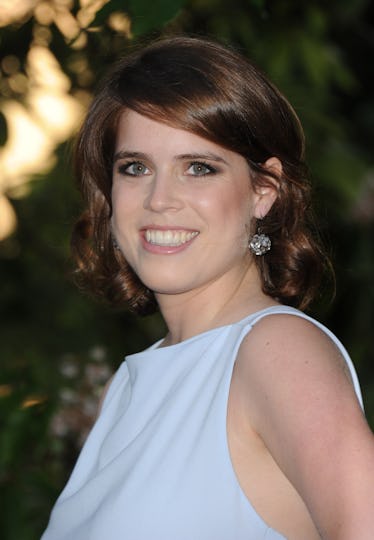 The Castle Princess Eugenie Is Getting Married In Should Look Really Familiar To You
Stuart C. Wilson/Getty Images Entertainment/Getty Images
Princess Eugenie and Jack Brooksbank are getting married on Friday, Oct. 12, which is just a few weeks away. And that has royal family enthusiasts curious about one thing: where will Princess Eugenie's wedding take place? Even if you're not familiar with the area, you'll definitely recognize the wedding location because it's the same place Prince Harry and Meghan Markle had their wedding in May. Yup, Eugenie is heading to St. George's Castle at Windsor Castle to tie the knot with her longtime beau. And let me tell you, fans of the royal family are going just as wild over this wedding as any other.
While you may not hear much about Princess Eugenie in the states, she's definitely one of the more popular royals to those who follow the family closely. As the first cousin of Princes William and Harry, Eugenie is of the newer, more progressive generation of the royal family. She's active in public and on social media and, like Meghan, makes fashion a priority.
Needless to say, royal enthusiasts all over the world are beyond excited about Eugenie's nuptials. Even more exciting is that she's getting married in one of the most beautiful and historic places the world has to offer.
In choosing St. George's Chapel at Windsor Castle, Eugenie has basically opted for a more low-key affair, which is definitely her style. It's pretty well-known that many royal couples get married at Westminster Abbey, which is where Prince William and Kate Middleton exchanged vows. But Eugenie seems to be following in Harry and Meghan's footsteps with an off-the-beaten-path choice in venue.
Not to mention, Eugenie invited 1,200 members of the public to attend the ceremony, which is similar to what Harry and Meghan did as well. All in all, Eugenie's wedding is shaping up to be a true royal affair. Can't blame her, really. She is a royal, after all, and entitled to the very best her famous family has to offer.
Unfortunately, though, you likely won't see the wedding on television the way you did with Harry and Meghan or even William and Kate. Despite a royal family request to televise the wedding, the BBC has reportedly declined to do so.
According to a source for Mail on Sunday, the BBC reportedly refused to air the wedding because "they don't think enough people will tune in and that there isn't enough support for the Yorks."
"The feeling at the Palace is that the BBC has dropped the ball," the source continued. "At the end of the day this is going to be a huge royal wedding, with all the senior members of the Royal Family in attendance. But nobody wants to take the risk and spend the money it would cost to put it on air."
Yikes. Can you say awkward?
But even with that little hitch, Eugenie's wedding will probably just as amazing as she hopes it'll be. I'm sure there'll be cameras there to capture all the special moments, anyway — if not for the public to view, then at least for Eugenie to show her future kids one day.