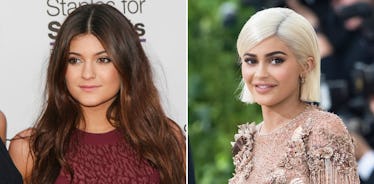 These Photos Of Kylie Jenner Prove How Much She's Changed Over The Years
Paul Archuleta / Getty Contributor & Gilbert Carrasquillo / Getty Contributor
Let's go back, back to the beginning. It was a simpler time. Trump wasn't president, the iPhone 6 didn't exist, and Kylie Jenner was just a kid. When the Kardashians embarked on the first season of Keeping Up With The Kardashians, Jenner was just an average 9-year-old girl living in California. Sure, her father was already an Olympic gold athlete and her mom was destined to take over the world, but still. Life was "normal." These photos of Kylie Jenner show how much she's changed since then.
In the past eight years, Jenner has embarked on a transformative journey you and I will never understand. She's purchased her own home, launched a multimillion dollar company, gained 100 million followers on Instagram, starred in her own TV series, graced Forbes' 30 Under 30 list, and is reportedly becoming a mother, all before she can legally drink. We've watched her survive love and heartbreak, and quietly move from the background to the foreground of her family's fame.
If you're still living in 2013 and think Kim Kardashian's divorce to Kris Humphries is the most interesting thing about this family, my friend, you're dead wrong.
Walk with me.
2010
Man, nothing beats an old-fashioned bobby pin holding back some bangs. At this point, KUWTK already had two seasons under its belt, and Jenner was getting her sea (red carpet) legs.
2011
LOOK AT THIS. It's only been one year and she's upped her poise and grace like whoa. It was the days of heavy eyeliner and loads of lip gloss.
2012
Welcome to our first look at a slightly edgier Jenner. Here, she's rocking a serious smokey eye and a big bun that says, "I mean business. I think."
2013
Oh, snap. It's getting sultry in here. Jenner is already experimenting with a wild lip color and rocking that signature, luscious, brown Kardashian hair.
2014
ENTER KYLIE'S FAMOUS LIPS STAGE RIGHT. Between 2013 and 2014, Jenner went through perhaps her largest transformation and debuted her now-famous lips. Little did we know how much this move would change all of our lives.
2015
By now, Jenner's found her groove. She's gorgeous. She's mysterious. She's fierce. She literally sparkles and the world is paying close attention. Move over, Kim.
2016
In her late teens, Jenner began to seriously experiment with fashion, wigs, and makeup. Oh yeah, this is also the year she invented Kylie Cosmetics. (Maybe you've heard of it.) Her success as an entrepreneur eventually landed her on the 2017 Forbes' 30 Under 30 list for Retail and E-commerce.
2017
In perhaps her most iconic look ever, Jenner fully transformed from average girl-next-door into a major celebrity wearing literal Versace at the Met Gala. By now, fans have fully jumped onto the Kylie Jenner bandwagon, and we can't go a day without checking in on what our girl is up to.
Headed into 2018
This leads us to today. This might be a picture of Jenner wearing a regular t-shirt, but it also might be a picture of her hiding a baby bump. We're currently headed into 2018, and by now you've heard the rumors that she is reportedly expecting her first child with her boyfriend, Travis Scott.
While she's been doing an amazing job staying away from the limelight, we can't help but keep our eyes on this fascinating and successful woman.
Just remember, if Kylie can do all of this in less than a decade, you can probably figure out how to make fajitas at home. (That's what I'm telling myself, anyway.)
Check out the entire Gen Why series and other videos on Facebook and the Bustle app across Apple TV, Roku, and Amazon Fire TV.