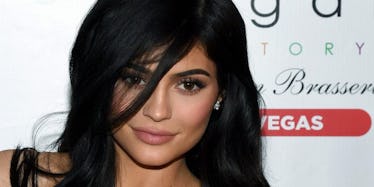 Kylie Jenner's 2017 Met Gala Look Is Her Best Outfit Yet
Getty Images
I think it's safe to say Kylie Jenner is the 19-year-old who's having the best week.
She's got a new boyfriend (well, kinda-sorta-maybe) and she's going to the 2017 Met Gala.
Geez, when I was 19, I was trying to pass finals and get the attention of a junior engineering major.
My life was all about my college hoodie and a messy — and oftentimes greasy — bun along with clothes that carried a strong odor from the food in the cafeteria, which was usually undercooked or burnt.
But here's Kylie, getting all glam at fashion's biggest event.
I've got to hand it to her — she is definitely winning. I bet the food at the event is a notch up from what I used to have at Locke's Loft, too. That makes me even more jealous than this whole ~fashion~ thing.
But back to the 19-year-old who gets to go to the Met for something other than a Saturday-afternoon stroll through the exhibits.
Here she is with her "little tiny angel baby big sister" hours before the big show.
I'd just like to point out that we're all rocking the same leggings right now, so that totally makes me fashionable.
And here she is arriving for the event.
I have to say, I'm super impressed with this selection. She looks pretty chic... as opposed to Katy Perry who looks... something.
This year's theme was inspired by Rei Kawakubo/Comme des Garçons, a Japanese designer with a flare for the avant-garde.
Andrew Bolton, curator of the Metropolitan Museum of Art's Costume Institute talked to Vogue about the designer and said, "By inviting us to rethink fashion as a site of constant creation, recreation and hybridity, she has defined the aesthetics of our time."
All the more reason for Kylie to be at the event, right? She's certainly defined some aesthetics of her own.
Do we need to get into our love for her coveted lip kit?
So whether it's donning a sexy dress and blonde bob at the Met Gala, toying with Tyga's heart with an array of revenge Instagram posts or getting her own reality series — as you do at 19 —it's definitely Kylie's world and we're just living in it.