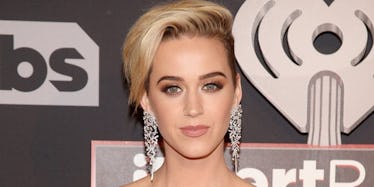 Katy Perry's 2017 Met Gala Look Will Leave You Completely Speechless
Getty Images
Rei Kawakubo, the designer behind the theme of this year's Met Gala, specializes in "anti-fashion."
So, it comes as no surprise to the world that this year's Met Gala looks are more extravagant, lavish and extreme than ever before.
Anna Wintour has proven, yet again, there's a reason why only the fashion royalty of the world attend her annual event -- the rest of us are simply not worthy.
Katy Perry, who used to spend her time wearing multicolored wigs and squirting whipped cream out of her bra, is hosting this year's event and showed up looking like a flawless personification of the Red Wedding in "Game of Thrones."
Katy's outfit, designed by John Galliano, is a stunningly bejeweled red gown, complete with a killer set of nails and rings by Lorraine Schwartz fit for, well, the host of this year's Met Gala.
Katy Perry is no stranger to the world of "Wow, I could NEVER pull that off" fashion statements.
In 2010, she truly glowed on the American Woman: Fashioning a National Identity Met Gala red carpet in a CuteCircuit gown.
In 2013, KP rocked the Punk: Chaos To Couture theme in the best way possible -- with a literal crown, adjourned in jewels. All hail.
Then, for the China: Through The Looking Glass themed Gala, Katy served us her Moschino look on a spray-painted, gold-embellished plate while giving nail-art enthusiasts heart palpitations.
And last year, for the 2016 Manus x Machina: Fashion in an Age of Technology Met Gala, Katy, her black lips and Morticia Adams hair wowed the crowd and probably inspired the nightmares of children across the globe who just don't understand FASHION.
All hail Queen Katy Perry. We are not worthy, and we never will be.