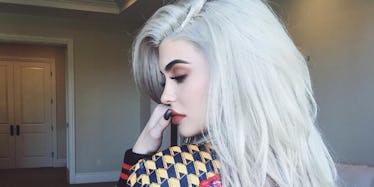 Kylie Jenner Buys A Fourth Mansion, Continues To Be Most Unrelatable Celeb
Deep down, most of us know we'll spend so much of our lives paying off student loans and wasting what little spending money we have on 2 am Taco Bell runs, owning property is just never going to happen.
But Kylie Jenner is not most of us.
She owns four houses, as of Saturday. Her latest purchase, according to real estate site Trulia, is a $12 million, 13,200-square-foot Cape Cod-style mansion.
This new spot in Hidden Hills, California features 11 bathrooms, a gourmet kitchen, a home theater, a game room and a pool, ET reports.
Other totally unconfirmed items (probably?) featured in the 19-year-old's new house include:
A three-tier Monticello Fountain just for FitTea.
A live-in acupuncturist for Kylie's stressed AF dog Norman.
A closet full of coders creating custom Snapchat filters day and night.
A sprawling but spooky attic where Patrick Demarchelier snacks on crackers and rainwater, waiting to take Kylie's #OOTD Instas each morning.
A backyard wig forest.
An industrial fridge full of severed arms for Lip Kit swatch pics.
Hailey Baldwin's soul.
Earlier this summer, Ky bought two neighboring homes -- one for $6 million and a second, to use as an office, for $4.5 million -- also in Hidden Hills.
Her boyfriend, Tyga, may not be able to hold down a place of his own, based on legal drama between the rapper and his former landlord, but if Kylie keeps buying up property all over Hidden Hills, Tyga can probably move right into one of the reality star's homes and by the time she notices he's staying there, have burned the property straight to the ground.
Don't worry, T, you'll always have Mama Kylie looking out for you with those Ryan Seacrest dollars.
Citations: Kylie Jenner Buys Her Fourth Home, a $12 Million Mansion -- See The Palatial Pics (Entertainment Tonight)