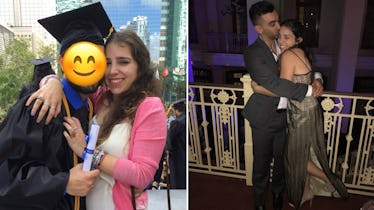 An Expert Analyzed My Body Language With My Ex Versus My Current Partner, & I'm Surprised
Courtesy of Christy Piña
I have a really bad habit of comparing people to one another — myself included, TBH. I compare the way my friends treat one another to how they treat me, the relationships my parents have with my siblings to the one they have with me, and admittedly... sometimes I compare my current boyfriend to my ex. I swear it's not on purpose! But in an effort to put my bad habit to good use, I asked an expert to analyze my body language with my ex compared to my current partner, and to my surprise, she found some very similar body language cues within both of my relationships. It was pretty shocking to hear, because the relationships were both so vastly different.
But before we dive head-first, some background: Ralph* and I were really good friends in high school. We ran in similar circles and lived five minutes from each other, so we were close even prior to dating. We were together for two-and-a-half years, and although it was a nice run, we just weren't cut out for forever.
Alejandro (Ale for short) and I met last September. We were immediately attracted to each other, but I didn't think our relationship would develop into anything more than casual. To my surprise, we've been together a year now, and I've never been happier. When analyzing my body language with my ex and comparing it to my current boyfriend, body language expert Blanca Cobb found that when I'm in a relationship, I am all in. But she also found some pretty striking similarities in my body language with both guys, and it really surprised me.