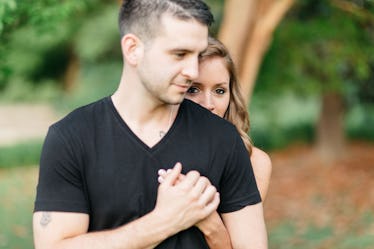 3 Signs You're Comparing Your Partner To Your Ex & Don't Even Realize It
Here's a dating reality that can be tough to swallow: If you've had even just one relationship before your current one, there's a good chance that at some point, you've been comparing your partner to your ex . It's not something you're necessarily always conscious or in control of. Sometimes, it's not even a bad thing — like when you realize through said comparison that your current bae makes you feel more emotionally safe, shows you more physical affection, or is more mature. That said, comparing significant others is dicey territory. Every individual and relationship is unique, so it's ultimately unfair to constantly measure two people against each other.
The thing is, the human brain is basically wired for comparison. We see a heart-melting scene in a rom-com and we're instantly comparing a fictional relationship to our own. While shopping for some lust-worthy suede over-the-knee boots, we feel the need to hop on a competitor's site just so we can make sure we're getting the perfect pair. We spend 10 minutes in the produce section painstakingly sorting through avocados to pick out the one that's just ripe enough without being overly soft. So it makes sense that we'd do the same with our significant others. Comparing someone you're dating to someone you've dated in the past can help you to appreciate your current situation more, but it can also potentially be harmful to your relationship. Not sure if you're pitting your bae-of-the-moment against your past bae? Here are some subtle signs you're playing the comparison game.