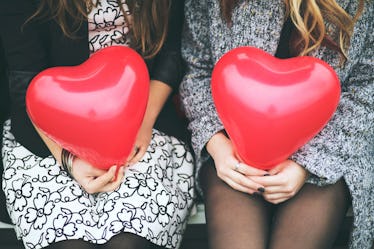 6 People Who Fell In Love With Their Friends Reveal How It Happened
Wedding season is winding down, but my social media feeds are still full of posts from glowing newlyweds about how lucky they are to be in love with their best friend. So many times the phrase "just friends" can be used to let someone down easy, but what if being just friends can actually lead to something much more? Like, say, a gushing Instagram caption about your life partner? Don't believe me? Just read these quotes about falling in love with your friend and I dare you not to melt like Pinkberry in August.
I reached out to several people who are happily in love with their partners, who were formerly "just friends," and while everyone had a different story, one thing was consistent: friendship. The bedrock of each of these relationships is a long-standing friendship, clear communication, and a mutual respect. Transitioning from friends to lovers can be tricky, because if the whole lovers thing doesn't pan out, then you're not only minus one lover, you're minus a dear friend. But take heart, because these babes figured it out. Now, let's melt.