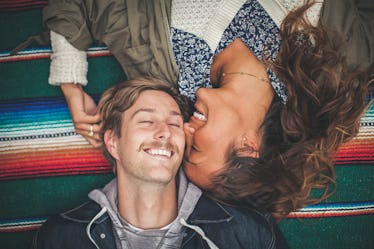 6 Women Reveal What Falling In Love For The First Time Feels Like & I'm Melting
Chemically speaking, falling in love for the first time is basically magic. Your body releases a ton of dopamine — the neurotransmitter in charge of your brain's pleasure and reward centers (the same hormone released when you have an orgasm, FYI) — which makes the whole world look and feel a bit brighter. More exciting. Kind of sweaty (seriously, though, it impacts your sweat glands).
After that dopamine release comes a rush of neurochemicals like norepinephrine and phenylethylamine, which basically spike your ability to focus. You become completely enraptured by your partner, noticing every little detail about them, like the freckle under their right eye or the way they always sneeze in threes.
The symptoms are different for each individual, of course, but I think it's safe to say that everyone's first time falling in love is a unique, dizzying, and often overwhelming experience. Sometimes it's wonderful, other times terrifying.
I first fell in love when I was just 16, and I can practically pinpoint the moment it happened. My boyfriend was staying the night at my house (he was tagging along on a family trip the next day), and we'd tip-toed into my living room to eat ice cream in the wee hours of the morning. We were eating and kissing and tracing the lines on each other's palms — talking about the future, about college, about all of the unknowns.
"Even if I don't get to be the person you end up with," he'd told me, arms tangled around my waist, "I hope I get to shake the hand of the man that does."
It was utter bullsh*t (I now know), but in that second, my 16-year-old heart cracked open. It felt like hot chocolate and sunshine were rushing through my veins.
From that point on, my heart would skip a beat any time I saw his silver truck pull into my driveway or got a whiff of his off-brand cologne. I was addicted to him, much in the same way that I'm now addicted to iced lattes: Gladly, wholly, and probably to an unhealthy extent. And, though I've experienced different kinds of love in the eight years since our break-up, nothing else has ever felt quite like that.
But again: Falling in love feels different for everyone, and I was dying to hear how other women described that sensation. I asked six women what it felt like the first time they fell in love — some as giddy high schoolers, others as adults — and their responses have left me in a puddle of feels.
I'll let them take it from here.