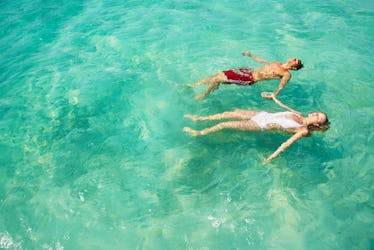 6 Heartwarming Signs Your Significant Other Is Actually Your Best Friend
"Best of Elite Daily" stream in the Bustle App
"I'm the luckiest guy/girl on the planet, I get to marry my best friend!" It may sound like a cliché reserved for humblebrag Instagram posts about engagements, but before you roll your eyes, consider that research has proven you're pretty damn lucky if your partner is your best friend. In fact, people who are best friends with their SOs are twice as satisfied with their lives in general than those who don't, according to a 2014 report from the National Bureau of Economic Research.
It's a pretty common thing for bae to become your BFF, too. Remember Michelle Obama's Instagram post commemorating her 25th wedding anniversary? In the caption, she wrote to Barack, "A quarter of a century later, you're still my best friend." Nicole Kidman called Keith Urban her best friend in a Facebook post for her hubby's 50th birthday, too. And when Justin Timberlake accepted his iHeartRadio Innovator Award in 2015, he called out Jessica Biel, saying, "I want to thank my best friend, my favorite collaborator, my wife, Jessica."
NBER researchers have deemed it a "super friendship" — a powerful fusion of romance and friendship. How can you tell if you have one of these special relationships? Here are some signs that should ring a bell.