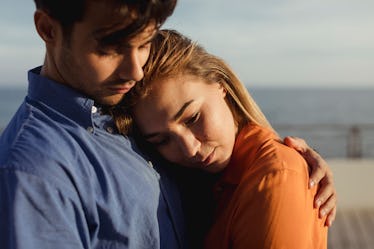 4 Signs Your Relationship Is Just Not Working No Matter How Hard You Try
It can be so much easier to end a relationship when you're no longer happy in it than it is when you and bae are in love, but the relationship still isn't working. Unfortunately, some relationships simply don't work despite how desperately we may want them to. If you find yourself in a situation like this, there are several signs your relationship is just not working to look out for, even though they may be hard to accept. If you and bae are trying as hard as you possibly can to make your relationship work, and nothing is changing, it's normal to feel discouraged. But fret not. Try to look at it glass half full, instead of half empty. If this relationship doesn't work, it can make way for a better one that will down the line.
Some conflict in a long-term relationship is completely normal. When two people are trying to come together and make a life for themselves, "there will be bumps in the road, misunderstandings, and conflict," Benjamin Ritter MBA, MPH, EdD, founder of the Breakup Supplement and consultant for Live for Yourself Consulting, tells Elite Daily. "That is all OK as long as both partners are still future and goal-oriented to make the relationship work. What isn't OK is when a relationship stops moving forward. If one or both partners decide that they aren't going to focus on the end goal of the relationship, a relationship isn't going to work, no matter how hard one partner tries." Below, some signs your relationship is headed down that very road.