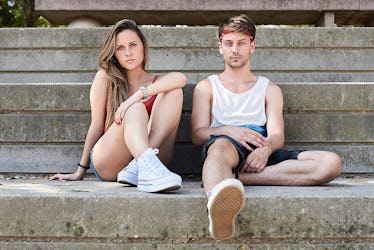 4 Red Flags Your Partner Is Honestly A Bad Influence, So Be Careful
I hate to be the bearer of bad news, but sometimes, the people you love can negatively impact your life. It's possible that the red flags your partner is a bad influence could be popping up in your relationship, and you don't notice them. Or maybe, you purposely turn a blind eye because your love for the person outweighs the negativity they could be bringing into your life. It happens. Trust me, you're not alone.
This inclination to turn a blind eye to the things your partner does that may be hurting you can often be a result of your unconditional love for bae, and that may be a risky feat. Don't get me wrong. I think unconditional love is absolutely beautiful, but I feel like when you love someone to that degree, it can be hard to see they may be doing you more harm than good. But it's not only in situations of unconditional love that this happens. Even with conditional love, I feel like it's possible to not see the ways your partner may be hurting you.
I spoke to dating expert and matchmaker Stefanie Safran and noted psychologist LeslieBeth Wish to see if there are any red flags you can spot that your partner may be a bad influence in your life. Here's what they said.