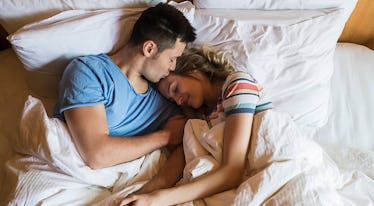 How These 13 People Define Intimacy Will Seriously Make You Re-Think Everything
When I think "intimacy," I think sex. For some reason, I've just always assumed those two words were interchangeable. But in reality, intimacy can be so many different things. Like most things in relationships, the true definition of intimacy varies per person and per couple. For some, intimacy means sex. For others, it means the little things your partner does for you, just to see you smile. It could be a simple touch, or cuddling, or just being together.
In my current relationship, some of our most intimate moments have been right after an argument. My boyfriend swears by arguing in person — I hate it, but I guess he has a point. You get to the point of the argument much quicker in person than you do by text. As a writer, however, I express myself best through my writing, hence, my inclination to argue by text. But I don't mind it as much anymore, because some of our most intimate moments happen during those few minutes after a fight, once we've both gotten what we wanted to say off our chests, after one of us budges and apologizes first. We spend those moments hugging, talking about how neither one of us wants to do anything to push the other away, and about how we've never felt this strongly about anyone before. Those moments make me feel all warm and fuzzy inside, and have defined what intimacy is to me.
To see what other people consider the true definition of intimacy in a relationship, I turned to Reddit. Here are some of the best definitions I found.