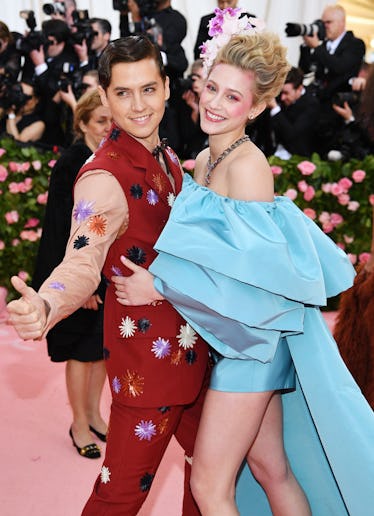 Lili & Cole's Quotes About Their Relationship Are Such A Tease
Dimitrios Kambouris/Getty Images Entertainment/Getty Images
If there's any couple that has put their fans on an emotional rollercoaster, it's Lili Reinhart and Cole Sprouse. The two play on-screen couple Betty Cooper and Jughead Jones in The CW's Riverdale. As for their off-screen status? Well, that's an entirely different, topsy-turvy story. If anything, Lili Reinhart and Cole Sprouse's quotes about their relationship show they have a deep tenderness for each other, even if they keep the deets super private.
A quick timeline: In March 2018, about a year after Riverdale started airing, fans were at a fever pitch due to Reinhart-Sprouse dating rumors. (When asked dead-on at Comic Con that year, Sprouse gave a dry "No comment.") A few months later at the 2018 Met Gala in May, the two made their couple debut. Fast forward to July 22, 2019, when sources reportedly confirmed to Us Weekly that Reinhart and Sprouse had reportedly broken up. A few days later, a source reportedly told E! News, "Now that filming is happening again, it is very likely they will mend the relationship and get back together. They spend a lot of time together on set."
And just as everyone was tweeting "love is dead", Sprouse and Reinhart upped the ante by promoting their joint cover for W Magazine. "Unprecedented: Cole Sprouse and Lili Reinhart consume the flesh of 'reliable sources' to fuel their bacchanalian sex cult," Sprouse wrote on Instagram. Reinhart's caption was more direct: "Breaking: A reliable source has confirmed that none of you know sh*t."
Completely on-brand for this couple, here are TK quotes from Reinhart and Sprouse about their relationship that prove the two are serious about keeping their love between the two of them.