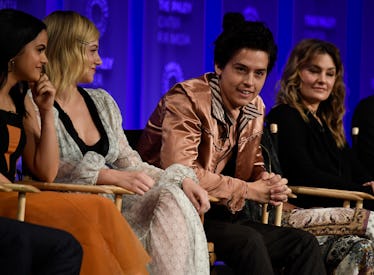 This Video Of A Fan Asking Cole Sprouse & Lili Reinhart If They're Dating Is So Awkward
Frazer Harrison/Getty Images Entertainment/Getty Images
I am a major Bughead shipper, but I'm an even bigger Cole Sprouse and Lili Reinhart shipper. I overanalyze every Instagram and read too much into every tweet in hopes that I'll uncover a clue about whether the Riverdale actors are really dating. I'm not alone in my sleuthing — plenty of Riverdale fans are hoping that the stars' cute friendship is much more than that — but one fan took her IRL Bughead hopes to new heights when she flat-out asked the actors if they're together during a Paley Fest panel on Sunday. Mad props, but man, this video of a fan asking Cole Sprouse and Lili Reinhart if they're dating is so awkward. Seriously, I feel so bad for this over-eager fan that I'm still cringing thinking about it.
During the Paley Fest Q&A (where the cast answered Riverdale-related questions about things like whether the Black Hood will return), a teenage girl stood up and asked the question heard 'round the world. "Um, so Cole and Lili, there's been a lot of rumors about you guys dating," she said, to massive cheer/groans from the audience. "Are you dating?" Reinhart immediately covered her face with her hand — she just wanted to answer questions about Season 2! — and Sprouse stared smugly at the fan.
As it slowly became clear that a fan had really asked about the stars' love lives, Reinhart and Sprouse's Riverdale co-stars each reacted a little differently. In true Archie form, KJ Apa laughed it off, and his on-screen girlfriend (but definitely not off-screen) Camila Mendes, who plays Veronica, shot him an "OMG why would someone ask that" look. But by far the worst reaction came from Madelaine Petsch (Cheryl Blossom), who looked angry and mumbled, "That's such an inappropriate question." If Riverdale has taught us anything, it's that Cheryl is not someone you want on your bad side — her withering stares alone can kill. Petsch shot one of those same glares at the fan, and in that moment, I died of shame through my computer.
In an attempt to get out of answering, Reinhart and Sprouse wondered if the fan had really asked a question. "Was that the question or the statement, because you're right," said Sprouse. The fan repeated her question, to which Sprouse replied — as he has traditionally done — with a simple "No comment." But it's his sly little smile afterwards that has my brain racing with possibilities (and that fan's), because who smiles like that if it's not actually true?
The crowd cheered wildly, and the panel's moderators tried to move on quickly to the next question. But Reinhart and Sprouse's mics picked up a private interaction between the two (who were sitting next to each other on stage), which definitely has me thinking that there's something going down between the two stars. "Thanks for not answering," mumbled Sprouse as the two smiled at each other. Bughead alert!
I can totally respect that Sprouse is a pretty private guy and doesn't want his relationship splashed across the news, but if these two are dating, they're not doing an awesome job of hiding it. The actors are constantly in each other's Instagram stories, and they're always quick to post a sweet birthday pic or share a kind word during an interview.
Plus, there's this.
I'm gonna go out on a limb here and say that there's a whole lot behind that "No comment."
While neither Sprouse nor Reinhart have confirmed the relationship (and probably never will), Sprouse has said that it isn't bad that people are hoping the actors are dating in real life:
Truthfully, it's very pleasing that people talk about Lili and I in that way because it means that we're resonating so strongly from our character perspective that people really want that to be true.
The rumors will probably never stop, but as long as these two keep posting cute pictures and videos, I think I'm OK with not knowing the truth.