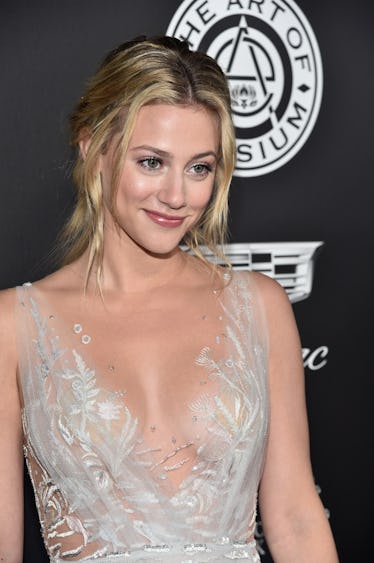 Lili Reinhart Said The Sweetest Thing About Cole Sprouse & We're Swooning
Alberto E. Rodriguez/Getty Images Entertainment/Getty Images
Lili Reinhart has shot to stardom within the past year, and one question always looms in the back of my mind — how does a person handle all of that? As it turns out, she gets by with a little help from her friends. Specifically, Cole Sprouse and his down-to-earth attitude. Lili Reinhart's quotes about Cole Sprouse are so sweet, and prove these two have a very special bond.
Reinhart's role as Betty Cooper on Riverdale has grown her a strong fanbase and quite a bit of notoriety. Like most of her castmates, including KJ Apa, Camila Mendes, Casey Cott, and Madelaine Petsch, Reinhart was just getting her acting career started when she landed her coveted role on Riverdale.
Besides the adults on the show, Cole Sprouse is the only veteran to acting and the fame that comes along with it on set. He's been acting since his childhood on Friends and starred in The Suite Life of Zack and Cody on Disney Channel. He's been through the flames of popularity and back again.
Reinhart admitted that Sprouse's experience has made him a huge calming force on set. The actress was on the cover of Ocean Drive for their February issue and opened up about Sprouse and her role as Betty Cooper. She said about her co-star,
He really brings us down to earth if we're feeling like something we've said is being taken out of context. He's always the one to be like, 'Just ignore it. It will blow over.' It's a nice, calming energy he has because you know that he's been through it.
As far as scoring the role as Betty Cooper, Reinhart loves the character and talked about what she considered "beautiful" about Betty.
She said,
Betty is the girl next door but there's a dark side — a side riddled with anxiety and a dark alter ego. But she's optimistic even when she is going through the hardest things. There's always a light inside her that can't go out, and that's beautiful.
In fact, Reinhart actually identifies with Cooper's dark side more so than her "girl next door" persona. She continued,
I relate most with her darkness. What I bring to Betty is her real anxiety about things and the stress she's under because I get easily overwhelmed and stressed out. I have anxiety.
Reinhart has been very open with fans about her struggles with anxiety and depression. Her reasoning behind the transparency is so other young people can see that they're not alone. She said,
Because I struggled with it so much and for so long. And I know so many other young people have, and I didn't have someone who was talking about it. I remember being in middle and high school and hearing Demi Lovato speak up about her mental illness and that was comforting. But I wanted more people to stand up. I needed more people to relate to. I was like, all these people can't be so happy, can they? It was kind of like this unrealistic picture that was painted in front of me of all these happy, happy people, successful people, beautiful people. And even now I'm on this wonderful show. I have money in my bank account. I have my own apartment. I have friends. I still go through and experience depression. You don't have to be ashamed of it. You don't need to ever justify the way you feel.
As far as her and Sprouse's relationship — there are some strong indicators of romance, but neither party has confirmed the dating rumors as true.
Honestly, Sprouse is pretty sick of being asked about his dating life all together. He told Entertainment Weekly back in September,
Since the show began, people have wanted Lili and I to be together. People have wanted Lili and Camila to be together. People have wanted KJ and I to be together. People have wanted every actor on this show to be in a union that they could make real and talk about. So I think that kind of discussion, especially because it's based so much on rumor and hearsay, needs to be taken with a grain of salt. We're all still human lives that are interacting with the source material. But, truthfully, it's very pleasing that people talk about Lili and I in that way because it means that we're resonating so strongly from our character perspective that people really want that to be true.
Will these real-life Bughead rumors ever stop? Probably not, but we can keep on dreaming.
Check out the entire Gen Why series and other videos on Facebook and the Bustle app across Apple TV, Roku, and Amazon Fire TV.