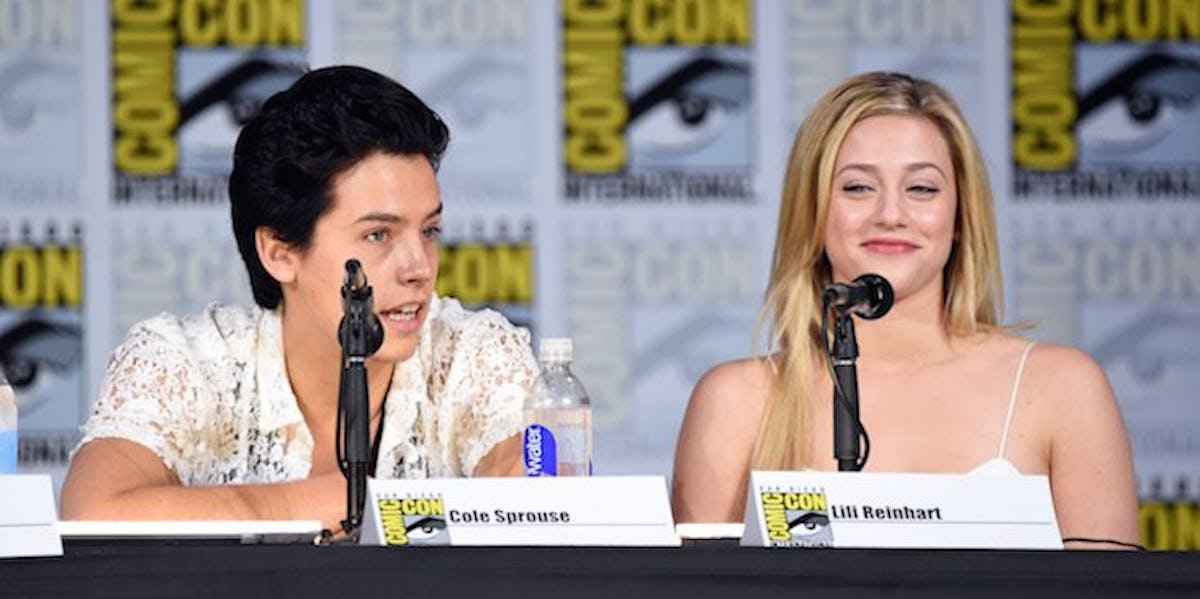 Lili Reinhart Shares First Impression Of Cole Sprouse After Watching 'The Suite Life'
Mike Coppola/Getty Images
You'd imagine that actress Lili Reinhart would have fallen head over heels in love with her Riverdale co-star Cole Sprouse right away, right? You'd be wrong, it turns out, as Lili Reinhart's first impression of Cole Sprouse wasn't quite the love-at-first-sight variety. Reinhart tells all in a new interview and it's a shocker, considering she was well aware of Sprouse before working with him.
Given Sprouse's Suite Life history on the Disney Channel, well, I think it's safe to say that he's kind of a big deal. Reinhart is apparently far cooler than I am because she said she wasn't even starstruck when she first met Sprouse. How is that even possible?
Reinhart did admit, however, that she found Sprouse attractive, albeit "normal," telling W Magazine: "It's funny, I don't really remember having an opinion on Cole, to be honest. Of course, I had grown up watching The Suite Life but I wasn't really starstruck. He just seemed like this really attractive, normal guy."
No sparks. No fireworks. Just. Normal. Go figure. OK, playing it cool, I get it.
Reinhart did gush a bit more about her other co-stars, however, saying, "I thought KJ [Apa] was so hot, so charming" and "I had seen Cole and Camila [Mendes] at the studio test, and thought Cami was so beautiful."
Of course, Reinhart spilling about her first impression of Sprouse continues to keep fans wondering about their real-life dating status. Neither actor has confirmed a thing, dangit.
When asked about their relationship by Entertainment Weekly recently, Sprouse didn't confirm he's dating Reinhart, saying:
Since the show began, people have wanted Lili and I to be together. People have wanted Lili and Camila to be together. People have wanted KJ and I to be together. People have wanted every actor on this show to be in a union that they could make real and talk about. So I think that kind of discussion, especially because it's based so much on rumor and hearsay, needs to be taken with a grain of salt. We're all still human lives that are interacting with the source material. But, truthfully, it's very pleasing that people talk about Lili and I in that way because it means that we're resonating so strongly from our character perspective that people really want that to be true.
Way to dance around the answer, right? This isn't Sprouse's first time at the celebrity rodeo and this bit of a canned response is a pretty perfect non-answer. Bravo.
That answer aside, it does look like Sprouse and Reinhart are clearly more than friends, from when they were seen "canoodling, holding hands, and kissing" at a Comic-Con party over the summer, to Instagram pics they post of one another, such as this one, captioned: "To the man who has showed me more beautiful places in this past year than I have ever seen in my whole life. Happy birthday, Cole. Thank you for all of the adventures and here's to many more."
As for Reinhart getting the news she had landed the Riverdale role, well, talk about normal... she was cooking a hot dog and fries, as she told W Magazine: "I was making myself a hot dog and pulling some curly fries out of the oven, and I got the call from my manager, and she said, 'You got it. You're Betty Cooper.' It felt so unreal. My friend was standing across from me, and when I put the phone down he said, 'I literally just watched your life change.'"
Riverdale returns for its second season on Oct. 11. Reinhart also noted that "people are obsessed" with Betty and Jughead, revealing that fans will see "some really beautiful moments between them, but also really intense" moments, adding that "Season 2 is kind of heart-wrenching." Are you ready for it?
Check out the entire Gen Why series and other videos on Facebook and the Bustle app across Apple TV, Roku, and Amazon Fire TV.