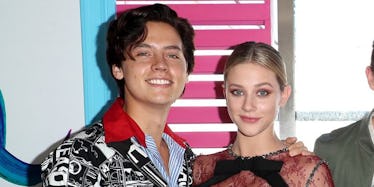 A 'Riverdale' Actor Might've Confirmed That Cole Sprouse & Lili Reinhart Are Dating
Chelsea Lauren/REX/Shutterstock
Jughead Jones' dad is messing things up again. Just kidding, he's totally making everything better!! Riverdale actor Skeet Ulrich might've confirmed Cole Sprouse and Lili Reinhart's relationship and I can handle none of it. In an interview from the red carpet of the premiere of Netflix's True and the Rainbow Kingdom, Ulrich (who plays F.P. Jones, Jughead Jones' dad) kind of spilled the beans about Sprouse and Reinhart's relationship. He said,
I know they spend time together because they're at work all the time together. I'm not surprised. They have great chemistry. They've been at our house with a lot of the Riverdale people, and they always enjoy each other's company, so I wish them the best.
When asked if he thinks Sprouse and Reinhart share a "special connection," Ulrich said,
It seems like it. You just hear them talk like they've been best friends for 20 years. So that's a good sign.
OK, so Ulrich didn't flat-out confirm the rumors that Cole Sprouse and Lili Reinhart are dating, but he did basically say that they're super into each other at the very least. Saying people have "great chemistry" and that you're "not surprised" there are dating rumors about them is basically saying, "Yeah, I mean, it's obvious they're together, but I'm not going to be the one to tell you that." I see what you're doing, F.P.!!!
Cole Sprouse and Lili Reinhart at the Teen Choice Awards was just about the cutest thing ever, so I need this relationship to be real. This past Sunday, August 13, Sprouse and Reinhart joined the rest of the Riverdale cast on the Teen Choice Awards red carpet. Riverdale won 7 awards overall, but fans absolutely lost it when Sprouse and Reinhart won Choice TV Ship for their portrayal of Jughead and Betty's relationship (aka Bughead). Sprouse also won Choice Drama TV Actor and Reinhart won Choice TV Breakout Star, beating out K.J. Apa, aka Archie Andrews. So yeah, Jughead and Betty had a great night at the Teen Choice Awards.
Here's all of the Teen Choice Awards Riverdale won:
Choice Drama TV Show Choice Drama TV Actor, Cole Sprouse Choice Breakout TV Star, Lili Reinhart Choice Breakout TV Show Choice TV Ship, Cole Sprouse and Lili Reinhart Choice Scene-Stealer, Camilla Mendes Choice Hissy Fit, Madelaine Petsch
Now we just need Cole and Lili to just come out and confirm they are dating!!! That would be great if you could, guys!!!