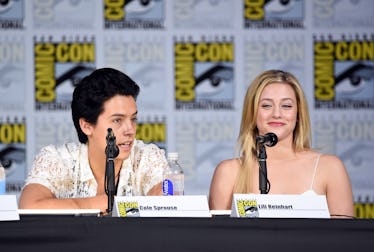 Cole Sprouse & Lili Reinhart Are At The Met Gala Together & OMFG, My Heart Is Exploding
Mike Coppola/Getty Images Entertainment/Getty Images
Cole Sprouse and Lili Reinhart at the Met Gala: 1. Other Hollywood couples: 0. Seriously, you guys — they are serving a major look at the annual event. If you don't believe me, just wait until you see the photos of Cole Sprouse and Lili Reinhart at the 2018 Met Gala. They might just be your next #CoupleGoals obsession.
On May 7, Sprouse and Reinhart hit the red carpet at New York City's Metropolitan Museum of Art, and they looked ah-maz-ing. The Suite Life of Zack & Cody alum wore a simple black suit, but clearly Reinhart was the only accessory he needed. She donned in a glittery, off-the-shoulder silver dress from — wait for it — H&M. (Someone point me in the direction of this gown ASAP, please and thanks.) TheVogue model also completed her look with a pair of dainty earrings and coordinating shoes, which completely embodies the phrase "less is more." Considering this is the couple's very first Met Gala and one of their biggest events to date since getting together in 2017, they made quite the impression and (IMO) were one of the best looks of the evening.
Take a look and try to keep your composure.
Let the church say: Okurrrr! The theme of this year's gala is "Heavenly Bodies: Fashion and the Catholic Imagination," and they clearly nailed it.
The Riverdale costars have kept their relationship under wraps pretty tightly, which also makes their appearance at the gala worth swooning over. Back in March, during the Paley Fest Q&A (which was where Riverdale actors answered questions related to the show), a fan questioned Sprouse over whether or not he was in a relationship with Reinhart, and let's just say it was more than awkward. Reinhart covered her face with her hand in embarrassment while their fellow costar Madelaine Petsch (Cheryl Blossom) mumbled, "That's such an inappropriate question." After a few silent moments, Sprouse smugly responded with a simple "no comment," putting an end to the inquiry for once and for all. He did, however, give the slightest grin after replying to the fan, which indicated that there could have been more going on between him and Reinhart than just being costars.
While many people (me) have wondered why the two — who seem totally perfect together — wouldn't go public with their romance, Sprouse opened up about his decision to keep things on the low in an interview with Elle in July 2017. He told the publication, "I am one of those guys that's never ever going to talk about my private life with the public sphere. I mean people can talk about the Jughead as much as they want but when it comes to the personal relationships, I have spent much of my life separating work and play so I will continue to do so."
Reinhart echoed Sprouse's comments in October 2017 on her Tumblr, maintaining that her love life isn't for anyone other than herself and her partner. "It's horrifying how invested some people are in my love life," she started. "Emphasis on 'my.' It is mine. It is private. If a stranger's love life is causing you anger, frustration or anxiety… please reevaluate your priorities."
BRB, going to reevaluate...
All jokes aside, though, these two look great together and match each other's style so well. They killed the red carpet tonight and have easily become one of my new favorite celebrity couples to keep eyes on. So, here's to a happy romance, and hopefully we'll get to see them back on the Met Gala's red carpet next year!