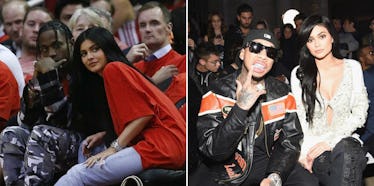 Celebrity Love Triangle Halloween Costumes To Dress Up As If You're A Third Wheel
Dimitrios Kambouris & Bob Levey
Ladies and gentlemen, boys and girls, ghosts and sexy ghosts. Halloween is upon us which means there's extreme societal pressure to pick the world's most interesting costume and get drunk on things no one likes to get drunk on, like pumpkin vodka and candy corn. If you're like me, you're probably racking your brain for costume ideas, and let me be the first to tell you, a group costume is the way to go. May I present you with new inspiration: the celebrity love triangle halloween costume.
Here's what's so great about dressing up as celebrities — they're easy to make fun of, everyone will know who you're supposed to be, and secretly deep down we all want an opportunity to fake fame anyway. In this case, a good old ménage àu trois is perfect for anyone third wheeling, or if you just want to include your best friend in your costume with your boyfriend or girlfriend. (You thoughtful person, you.)
Love triangle costumes are also great because you are already in costume as an individual piece of the puzzle, and once you're together the wow factor is amplified times three. PLUS, you get to be an actual human for Halloween, which means no outrageous, expensive, or uncomfortable costumes pieces.
Just to get you started, here are seven love triangle costume ideas to make you feel as famous as your celebs.
1. Brad Pitt, Angelina Jolie, Jennifer Aniston
The OG trio, amiright?
To be Brad: Def, def, def, hair gel. If you don't have luscious locks, pick yourself up a short blond wig. Add a little five o'clock shadow with eyeliner or face paint, throw on a black bow-tie and voilà.
To be Jen: If you're not up for rocking a Rachel from Friends wig, grab a long flowing blonde one and carry around a massive thing of Smart Water.
To be Angelina: Easy. Over-line your lips in red lipstick, draw on her amazing tattoos, rock a vial of fake Billy Bob Thorton blood on your necklace. Done.
2. Demi Moore, Ashton Kutcher, Bruce Willis
You guys remember this? Course you do, how could you forget. Demi Moore's ex, Bruce Willis, who is 23 years older than Moore's other ex, Ashton Kutcher, were all one cozy bunch for a little while there.
To be Bruce: Start eating only raw eggs and working out now. Also shave your head and squint a lot.
To be Demi: Pick up a black long wig with a center part, rock big sunnies, work out like a fiend.
To be Ashton: Let's be real. Punk'd Ashton is the best Ashton. Rock a floppy baseball cap, t-shirt, and become the world's most gorgeous man boy.
3. Harry, Ron, Hermione
OK, technically this isn't a real love triangle. And technically they aren't real people... but we all sort of wanted one good hook up scene between Harry and Hermione, right?
To be Harry: Rock those round glasses, sport that lightning bolt scar, grab yourself a gold and maroon scarf, carry a wand, wear a cape. BOOM.
To be Ron: Same as above, but with a red wig and no glasses or scar. Obviously.
To be Hermione: Same as above, but with big messy hair and and carry, IDK, a lot of books?
4. The Weeknd, Selena Gomez, Bella Hadid
This one felt profound to me. Like, oh OK, The Weeknd, you're just gonna bounce from supermodel to pop star like WE AREN'T EVEN INVESTED? The Weeknd took some brief time off between his serious relationship with Hadid before starting a serious relationship with Gomez, and so far, everyone has been pretty damn amicable.
To be The Weeknd: I don't know if this is true or not, but I feel like The Weeknd only wears all black. Also throw on some Puma sneakers, carry around a wad of money and a microphone.
To be Bella: Two words... contoured cheekbones. (And Victoria's Secret silver underwear, if you must.)
To be Selena: Get yourself some VOLUME in that hair, girl. Some sort of leotard/sparkly concert outfit will get you the most Selena bang for your buck. Also, grab your own microphone or share with your Weeknd cohort.
5. Kourtney Kardashian, Scott Disick, Younes Bendjima
Kourtney and Scott aren't quite the Ross and Rachel of our time, but we all are secretly pulling for them anywa... right, guys? Kourtney has been happily linked to new boyfriend Younes for some time now, and Scott only recently made things official up with Sofia Richie after a wild summer of young girls and yachts.
To be Kourtney: Slick your hair back into a tight pony tail and adapt her latest uniform of wearing strictly swimsuits. Go for a black one-piece and sunglasses.
To be Scott: Oof. Scott. Um... let's see. Wear a big watch. Grey sweatshirt. And pack your (emotional) baggage for Halloween.
To be Younes: Sorry. Can't. This man is a demigod with the face of the sun and the abs of a rock formation. You can stencil on a six pack or just wear a muscle body suit if you want, but let's be real, you won't pull it off.
6. Kylie Jenner, Tyga, Travis Scott
By now, you've caught wind that Tyga and Kylie Jenner split and Kylie is reportedly preggers with Travis Scott's baby. If you haven't heard that news, what are you even doing here?
To be Kylie: Pick your favorite Kylie wig, draw on those lips, baby, and rock some Puma sports bras.
To be Tyga: Your fashion statement is wearing sunglasses indoors. You can also commit to a motor leather jacket or plaid shirt, and wearing backwards baseball caps. You could also buy a t-shirt with Tyga's lyrics on it.
To be Travis: First and foremost, draw that Kylie Jenner matching butterfly tattoo on your ankle now or get out. He also loves to rock a good camo pant. You can also wear ripped jeans and a bunch of layered tops.
7. Tyga, Blac Chyna, Kylie Jenner
May we never forget the day that Tyga, Chyna, Kylie, and Rob came together at Khloé's birthday part at Dave and Busters.
To be Tyga: See above!
To be Kylie: See above!
To be Blac Chyna: Find a way to simulate dimple piercings (maybe using rhinestones or sequins), and carry around the sweetest, loveliest, plumpest little baby you can find to be daughter Dream.
There you have it. Grab your boyfriend/girlfriend/bestie/triplet/siblings and get out. Happy haunting and flaunting!
Check out the entire Gen Why series and other videos on Facebook and the Bustle app across Apple TV, Roku, and Amazon Fire TV.