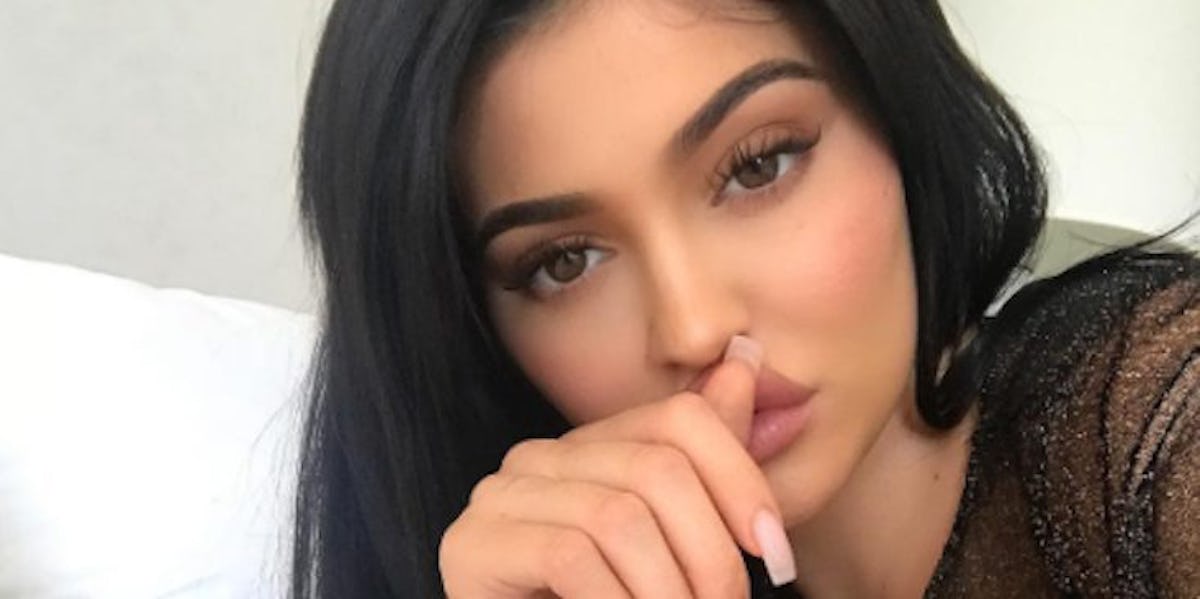 6 DIY Kylie Jenner Costume Ideas That Are Perfect If You're Too Lazy To Go Shopping
Instagram
How's everyone's Halloween planning going? Good? Great? Abysmal? At a loss for ideas? No worries. We're here to help. Everyone knows there's going to be at least one Kardashian/Jenner family costume at any Halloween party/bar you go to this year. So if you're planning on dressing as Kylie Jenner for Halloween but are afraid your costume will be lacking originality, we've got you covered. The best part about dressing as Kylie Jenner is you can wear normal, everyday clothes to make the costume. Yes, that means DIY Kylie Jenner costumes are easily accomplished with the help of your friendly neighborhood Forever21 and wherever you can buy a cheap wig.
There's no better place to take inspiration from for this than Kylie Jenner's Instagram. You can easily take any of the looks she posts and make it into your 2017 Halloween costume. Most of the looks include things you probably already have in your closet, and if you don't have it, odds are your friends do! If you're lucky, the only thing you'll need to buy for this costume is a wig (and maybe a Kylie Cosmetics Lip Kit). So take note, people, because these Kylie Jenner Halloween costumes will inspire your imagination so you can ensure your Kylie Kostume is ~not like the other girls~. And the best part, you can buy all of these items online.
1. Shirt Dress Kylie
All you need for this costume is the giant shirt you sleep in that probably smells like food (wash it maybe). Add a thick, metallic belt and a blonde wig (if you don't already have blonde hair), and you're done.
If you don't already have an oversized camo T-shirt/T-shirt dress, this green camo T-shirt dress from MISSGUIDED is perfect for this look. Pair it with that gold belt and you're set. The "Femme Fatale" part is an added bonus.
Price: $38
2. Rose Gold Kylie
The most important thing you'll need for this costume is a rose gold-colored wig. You can either buy a wig, or you can really commit to the role and use the new semi-permanent pastel hair dye collection L'Oréal recently released. You'll also need the baggiest grey zip-up hoodie you can find. Then you just bring a bottle (or two) of rosé with you because you're not here to f*cking trick-or-treat.
You can get L'Oréal's Colorista collection in Soft Pink at pretty much any store that carries hair dye — Target, CVS, you name it. It's an inexpensive line that comes with lots of pastel shades, including the pale pink you'll need for this costume.
Price: $10.99
3. Coachella Kylie Part 1
Kylie's Coachella 2017 outfits were pretty unforgettable. Between the wigs and the dresses, homegirl slayed. And the best part about her Coachella outfits is that the dresses she wore are easily found online, and they won't destroy your wallet! Jenner's two-piece snakeskin dress can be found at AMI Clubwear for under $20 right now. Yes, the dress Kylie wore to Coachella is cheap AF.
You can also snag the same Manic Panic hair dye Kylie used for her purple wig for under $15. Just put on whatever pair of shoes you think looks good with the dress, and you're set.
AMI Clubwear Two-Piece Snakeskin Dress: $15.75
Manic Panic Semi Permanent Cream Hair Color in Ultra Violet: $10.49
4. Coachella Kylie Part 2
The dress Jenner wore to Coachella this year is actually super cheap and is still available online, so this might be the easiest look to replicate. Jenner got the sheer gold dress from PrettyLittleThing.com, so head on over there if you want to recreate this look.
The wig she wore was neon yellow (that also glowed in the dark), and the dyes her wig guru, Tokyo Stylez, used to get the color are actually super cheap, if you want to temporarily dye your own hair. Stylez used Manic Panic's Electric Lizard and Electric Banana to accomplish the color, and each of them only cost around $11.
PrettyLittleThing Sheer Gold Dress: $40
Manic Panic Semi Permanent Hair Cream Color in Electric Lizard: $10.49
5. Hold My Boob Kylie
Another day, another amazeballs wig from the youngest Jenner. All you need to accomplish this look is a white tank, blue gym shorts (you can get the Puma ones Jenner is wearing if you so choose), and you're set. But in order to ~really~ recreate this look from Jenner's Instagram, you should also walk around holding one boob saying "this one's my favorite." If you don't want to wear the Puma underwear Jenner is wearing in the above photo, you can get some Puma running shorts in the same color instead (or any blue shorts you want, TBH).
The Manic Panic Cream Hair Color is going to save your life again for this wig. You can temporarily dye your hair with Manic Panic's New Rose shade, or you can get a wig that's the same color, or you can get a wig that's not this color and then dye it New Rose. You choose!
Manic Panic Cream Hair Color in New Rose: $10.49
Puma Core Run 3" Shorts in Blue Depths: $19.99
6. Korset Kylie
When Kylie Jenner wore a slip dress with a corset overtop to a business meeting, the internet lost its mind. Everyone was shook by her outfit choice (in a good way), so this would be an amazing look to recreate this Halloween. The slip dress Jenner wore is nearly $500, however, so we found you a much more affordable option.
You can snag this metallic silver slip dress from Urban Outfitters and pair it with a white underbust corset. Get a long black wig and strappy heels, and you're good to go.
Rare London Metallic Strappy Dress: $39.99
Satin Underbust White Corset: $21
Happy Halloween, my fellow witches.