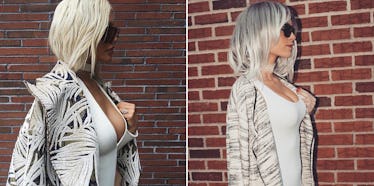 I Recreated Kylie Jenner's Outfits On A Budget For All Of Us Who Are Broke AF
Instagram
As New Year's Eve approaches, most of us are reflecting and stressing over the crazy amount of money we dished out during the holiday season.
From hosting parties, to buying impractical outfits, to shelling out for one spiked eggnog too many, our wallets are looking sad AF.
I'm starting this year off with a resolution to be as frugal as possible, while looking super chic at the same time.
If you live in ~the city that never sleeps~ like I do and suffer from a hardcore shopping addiction, this can be one of the most difficult tasks EVER faced.
Before ringing in the new year, I selected several of my favorite Kylie Jenner outfits and decided to challenge myself and go on a shopping spree with a limited budget.
A VERY limited budget.
We all know our girl Kylie rocks it like no other and has some pretty funky looks in her massive wardrobe (whimsical wigs included), which definitely cost MUCH more than my recreations.
Obviously Ky's outfits far surpass mine in quality, but HEY, something's got to give when you're a gal looking to save a few bucks (or thousands).
I'm trying to help out all my fellow fashionistas/Kylie Jenner fans in the name of fashion and for the sake of parsimony.
Here are seven outfits I put together after my Kylie-inspired shopping excursion.
Outfit 1: Small chest, no regrets.
What I'm wearing: Fitted catsuit (Letittful, $12.99), jacket (Macy's, $25.70), wig (Claire's, $24.50)
I definitely couldn't get the boob sitch to match Kylie's, however, this outfit is pretty on point at an affordable price. It's all about achieving the fun overall ensemble, while not breaking the bank.
TBH, I probably never would have given this fitted white bodysuit the time of day, but it's actually really fun and versatile. I'd totally rock it with thigh-high boots, a funky belt, leather jacket and baseball cap.
Yep, if you look closely enough you can see my thong lines, but YOLO.
Outfit 2: Got neon hair and don't really care.
What I'm wearing: Leatherette baseball cap (Windsor, $12.90), oversized army jacket (Marshalls, $24.90), wig (Claire's, $24.50)
This Kylie look is one of my personal favorites, and the best part about it is I'm totally incognito in my pink wig and baseball cap.
If anyone thinks I'm looking absolutely cray, they won't know it's me... so joke's on them!
Outfit 3: Flaunt those abs like a boss.
What I'm wearing: Tan crop top (Forever 21, $8.90), taupe leggings (Forever 21, $12), tan sweater cardigan (Forever 21, $27.90), wig (Claire's, $24.50)
The great thing about a cardigan is you can button it up and then ditch that baby all together once you've had a few drinks and are feeling super fine.
Let those abs fly free (LOL, or lack thereof, like me).
It's the attitude that counts, so let's pretend for the moment. Own the top of that bar like it's your dance floor. Tell them Kylie Jenner sent you (JK).
Outfit 4: Dig that wig, it covers a multitude of sins.
What I'm wearing: Leatherette baseball cap (Windsor, $12.90), tan leggings (Forever 21, $9.90), tan cami (Forever 21, $3.80), layered body jewels (Forever 21, $5.90)
Can I just tell you all again how much I LOVE ROCKING A WIG?!
It's empowering to switch up your hair color on the reg… especially if your natural hair is having a bad day (which is me every other day of the week).
Outfit 5: Bring on the paparazzi.
What I'm wearing: White long-sleeve crop top (Marshalls, $5.99), black workout pants (Marshalls, $19.99), suede baseball cap (Francesca's, $19.99)
You know that feeling you get when you're going to the gym low-key looking chic AF and the paparazzi are taking pictures of you while your bodyguard is close at hand? YEP.
JK, NOPE, NOT REALLY.
Outfit 6: Looking v. swag with a cheap price tag.
What I'm wearing: White high-waist skinny jeans (Charlotte Russe, $20), white jacket (Forever 21, $27.90), white lace-up top (Forever 21, $12.90), wig (Claire's, $24.50)
When styling your wig, do not – I REPEAT, DO NOT – use a straightening iron like I did. Hence... me rocking the shorter version of Kylie's longer green locks. OOPS.
A baseball cap, AKA damage control, was much-needed for this chick's look over here.
Outfit 7: My spirit ran wild with the cheetahs.
What I'm wearing: Faux fur cheetah-printed jacket (Forever 21, clearance for $12.99), t-shirt (Forever 21, $17.90), skinny jeans (H&M, $19.99), wig (Claire's, $24.50)
A cheetah-printed jacket has to be worn wisely, but one draped casually over the shoulders looks oh-so fabulous. Work it with that insanely confident look like you own the place, and you're purrrrrrrrrrrrrr-fectly set.