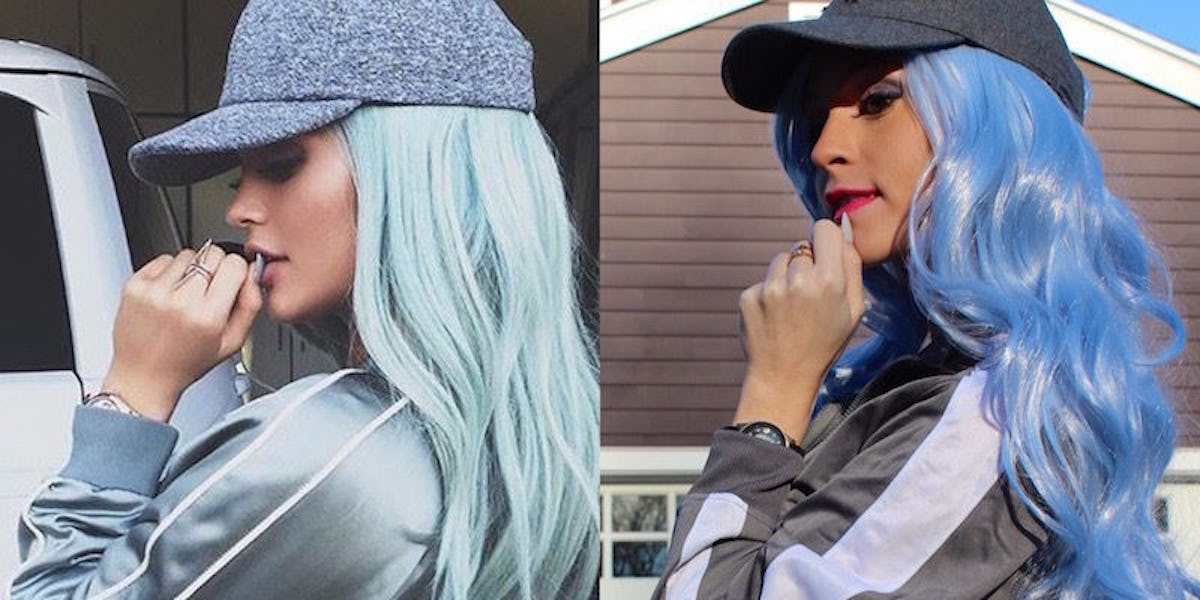 I Copied Kylie Jenner's Wardrobe On A Budget And Here's What Happened
Confession: I recreated Kylie Jenner's style for six days, and it was exhausting.
I look absolutely nothing like Kylie, but I put looks together to really get a feel for her style. From casual chic to trendy elegance, shopping for clothing was a challenge.
Kylie's style is extraordinarily unique. It took an extensive search and a creative combination of stores to put together outfits that resembled some of hers.
Although no one can crush Kylie's trademark blue hair quite the way she does, it felt downright life changing switching my brown strands.
I also determined the average gal like me may not have the extra time, patience or bank account to put together Kylie's outfits on the reg. However, I'd seriously envy a walk-in closet as big as hers.
Whether working a top knot, wavy bob, teal ombre or short green hair, I give Kylie kudos for always keeping her look fresh.
Day 1: Blue hair, kind of care.
What I'm wearing: gray baseball cap, metallic varsity jacket, leggings and much-needed booty pads.
If you have absolutely no booty, like me, butt pads are mandatory, especially when showing off your "assets" in leggings.
I bought my butt pads at Kohl's, but you can also get them online.
Maidenform Shapewear Padded Hipster, $20, Amazon
Kylie has a to-die-for figure that fills out her outfits in all the right places. As a skinny-ass girl with butt pads, however, not so much!
I'm extremely self-conscious my cheeks are crooked or someone will detect the lines. Seriously, I have real problems.
In the end, though, this stretchy outfit is comfy enough for my weekend errands.
Day 2: Does this wig make my butt look big?
What I'm wearing: white baseball cap, tank top, skinny jeans and work boots.
Once again, Kylie's blue hair is f*cking empowering and looks awesome in mirror selfies. I found my new 'do on Amazon.
Cosplay Party Costume Wig, $16, Amazon 
My blue locks definitely pop against my white ensemble, and I receive so much attention. Some people look amused, while others are completely bewildered.
After stuffing my hair into a wig cap for a second day, I actually consider dying my hair a Kylie-inspired color for the rest of the week.
Day 3: Look back at it, just let me fix my butt pads first.
What I'm wearing: nude crop top, flared pants, fluffy bag, sunglasses and heels.
Okay, I'm getting a ton of looks in this outfit. Kylie attracts attention because she is, well, Kylie Jenner, but I just look crazy.
I'm sure people assume I'm some weird betch prancing around with blue hair for a fashion blog. Little do they know, I'm actually sacrificing my dignity in the name of sartorial science.
On the bright side, I see a few of my own silent "fans" sneaking in some not-so-discreet pics. They like me, they really like me!
Either that, or my butt pads are crooked again. Is one of my boobs stuffed more than the other?
Oh, both of those things are happening. Great.
Day 4: I want to hack off my feet, but in a good way.
What I'm wearing: long black pea coat, black fitted dress with gold embellishments, sunglasses and thigh high heels.
Except for the excruciatingly uncomfortable boots, this is probably the outfit I like most of all. I feel elegant and classy, for once.
I'm definitely more in my element now that I get to let my hair fly free.
My dress, however, isn't designer-worthy. It's just a little black dress I had hanging in the closet, with creative embellishments stitched to the front.
Day 5: Oh, hello abs.
What I'm wearing: distressed boyfriend jeans, gray crop top, trench coat, sunglasses and silver pumps.
I am in love with this outfit.
I would never have chosen to wear shiny silver pumps like these, but they make everything come together.
Honestly, who doesn't love a great pair of boyfriend jeans paired with pumps and a fun crop top? The long trench coat adds a classy touch to the look, too, so I feel like someone with status.
Although, passersby stare at my shiny shoes and ignore the rest of me. Damn.
Day 6: As comfy as Kylie ever gets.
What I'm wearing: ripped skinny jeans, oversized camel shirt, backpack, sunglasses and peep-toe booties.
This is the easiest outfit to duplicate. Thankfully, it's also the most comfortable.
Although it may seem like an amazing life, it's tough to look like Kylie.
Kylie's long, manicured nails look sexy, but they are are not meant for everyday life. The simplest things are the most difficult (if not impossible) to do.
Typing on my laptop is impossible. Pulling up my fabulous butt-pad undies has me screaming for help. Getting my shoes on and off is extremely aggravating. Putting in contacts? Not going to happen today!
Maidenform Shapewear Padded Hipster, $15-20, Amazon
Day 7: Back to reality.
Dressing like Kylie, blue hair and all, brought me way outside of my comfort zone. But, honestly, I'd tell everyone to try out my challenge.
Everyone has his or her own sense of style, and should never place limitations on expressing it. Kylie is the perfect example of that.
I loved some of the looks I replicated and would totally not hesitate to wear them again. Others -- cough, butt pads, cough -- will be relived in memory only.
In the end, nobody does it like King Kylie.