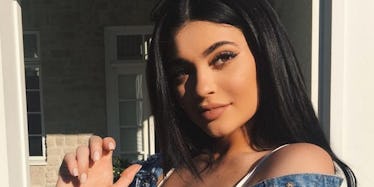 Kylie Jenner's Business Attire Is More Aggressive Than Your Friday Night Outfit
Instagram
I showed up to an in-office meeting the other day wearing a $4 shirt I later realized was on inside-out, so far be it from me to criticize Kylie Jenner for having zero grasp on the concept of "business casual."
TMZ reports the 19-year-old cosmetics mogul was photographed leaving a business meeting in Beverly Hills on Wednesday wearing everyone's personal dream outfit: underwear and expensive shoes.
Granted, most of us would opt for something big and cotton and fugly as hell, but we're not being photographed. Like, ever. No one wants this on camera. It's fine.
As of yesterday, Kylie's boobs are a whole thing again.
The "Keeping Up With The Kardashians" star posted a selfie in a beige tank, and the surgery rumors (that perhaps never fully died down) kicked right back up.
Last year, fans online speculated whether Kylie had gotten breast implants.
She told followers,
No, people — I haven't gotten breast implants! Everyone is obsessed with that. Truth is, as I've gotten older, I've gained 15 pounds and my body has changed; I've definitely filled out.
Whether she did or not, there's no hiding the fact Kylie is one of the modern era's most talked-about before-and-after stories.
I can't wait until we're all living in a post-surgery-shame America and can admit to all cosmetic procedures the way only nose job recipients are currently forced to do.
(Isn't it SO crazy how many famous people require surgery for their deviated septum?)
If you want to carve off your nose bones and shove a bunch of plastic in your titty holes, DO IT. Then, tell the world. Be proud.
I once went to Disney World with my Grandma for a week when I was five and unabashedly went toothbrush-free for the whole seven days.
I came back to New Jersey looking like I was born in a sewer and feeling so liberated with my green teeth and fuck-all attitude because at the end of the day, you have to live for yourself.
You also have to practice proper oral hygiene, but, like, you get it.
Citations: KYLIE JENNER BUSINESS ATTIRE And Business is So Good (TMZ)