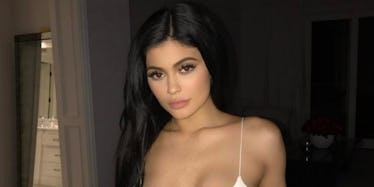 Kylie Jenner Sparks Boob Job Rumors Again With New Instagram In Tiny Crop Top
Instagram
Man, Kylie Jenner's boob job rumors are as rampant as my own (which I spread myself)!
It seems like the internet is always judging the size of the reality TV star's boobage. This isn't the first time, and it certainly won't be the last we discuss this pressing issue.
Just last year, Jenner shot down rumors she received breast implants and blamed her larger-looking breasts on hormones. (TBH, if you've experienced your period, then you know how much your dirty pillows will grow.)
In August, she addressed rumors about any boob jobs on her website, writing:
No, people – I haven't gotten breast implants! Everyone is obsessed with that. Truth is, as I've gotten older, I've gained 15 pounds and my body has changed; I've definitely filled out.
Now, the 19-year-old makeup mogul is raising a few eyebrows after creepy peepers caught a glimpse of her latest Instagram post.
Many fans speculated Kylie had work done on her butt and her lips. She denied the claims, but finally admitted she received lip fillers when she was just 17.
She said:
I have temporary lip fillers, it's just an insecurity of mine and it's what I wanted to do.
But did she receive breast enhancement surgery?
I've said it before, and I'll say it again -- what you're wearing absolutely can make it look like you have bigger breasts than you actually do.
I discovered that tight turtle necks made me look like I actually hit puberty when I was in middle school and wore them constantly. Unfortunately, tight turtle necks, frizzy hair and glasses also made me look like the school's librarian.
For inquiring minds, here is a photo Kylie posted five days ago.
And here is one she posted one day ago.
There's an obvious difference in size, but her swimsuit is likely crushing her boobs down in the first picture, while this crop top, which is very impractical and offers LITTLE support, showcases her body.
People are so quick to jump on the plastic surgery rumor train. Y'all have no chill.
Citations: 'Nice implants': Kylie Jenner reignites boob job rumours as she poses for a VERY busty selfie in a low-cut crop top (DailyMail.com)