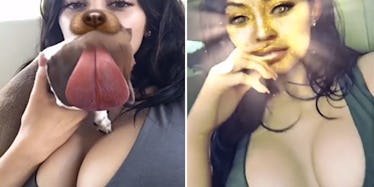 Everyone Thinks Kylie Jenner Got A Boob Job After Her Latest Snapchat
Snapchat
Woahhhh. We need to talk about Kylie Jenner's boobies.
The 19-year-old reality star posted some sexy videos on Snapchat that have a lot of people talking.
The internet can't seem to get over the size of Kylie's tatas. Several Twitter users are even accusing her of getting a boob job.
A FREAKING BOOOOOOOOOOOB JOB.
Check out the girls in this vid to see for yourself. Hello, Deborah! How ya doin', Janice?
YEAH, I NAMED KYLIE'S TITS. You got a problem with that?
Kylie was in the car playing around with a new Snapchat filter when, BAM, her big ol' boobies got in the way.
I personally didn't notice them at all. I was more focused on the leather seats and the car's interior.
BUT THEN TWITTER POINTED THEM OUT.
Is it just me or did Kylie Jenner get a boob job? her boobs look huge AF! — Camilla Mlilwana (@cami_millz) August 25, 2016
Not gonna lie, I stared at Kylie Jenner's boobs the whole way through her snapchat — bell (@imhackenberry) August 25, 2016
Yeah, people are OBSESSED with Kylie's rack. She also added this Snapchat video of her cute little puppy!
EYES ON THE PUPPY!
LOOK AT THE FUCKING DOG, DAMMIT.
It's unclear if Kylie Jenner really did get work done on her boobs or if she's just wearing a push-up bra.
Either way, Twitter is not convinced those boobies are real.
Instead of picking apart Kylie's chest, we should all probably pay more attention to things that truly matter... like Amanda Bynes returning to Twitter.