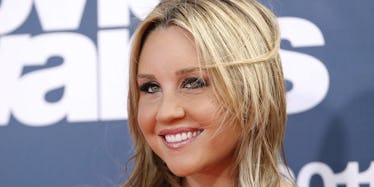 Amanda Bynes Returned To Twitter And People Are Going Absolutely Insane
REUTERS
Well, well, well -- look who just came crawling back to the internet.
It's Amanda Bynes, everyone!
The 30-year-old former child star decided to check in with her fans after being absent from social media for quite some time.
If you've been keeping up with Amanda regardless of her tight-lipped ways these days, then you know that the last time she checked in with her fans was back in February.
Amanda Bynes posted this photo of her new hairstyle back in February. Before this tweet, she was living in silence for several months.
Before that, Amanda was in and out of courtrooms in NYC for marijuana possession and other wild stunts.
She even started to regain control of her life, but then she did THIS to her hair.
While she was gone, rumors began swirling that Amanda had been tweeting using a disguised Twitter handle asking people for money.
Seems legit.
On Wednesday, Amanda Bynes made her triumphant return back to her verified Twitter account with this tweet.
It turns out Bynes has been pretty busy getting her life back together after living out a few wacky years prior.
She's loving her new lifestyle.
Amanda is so busy with her new life that she has ZERO time to tweet. Check her out.
Maybe people really can change...
She went as far as to clear up rumors regarding that suspicious, money-begging Twitter account I mentioned earlier.
Seriously, it's NOT her, guys.
Since her resurfacing on Twitter, the last tweet she sent out was directed at Twitter and how the team won't help her get rid of the account.
So, who's INCREDIBLY STOKED that Amanda Bynes is back on Twitter? Her fans (duh).
They're going crazy.
I don't think they ever expected her to come back.
Not only did she come back... she's, like, normal now.
Can you believe that we were all functioning without Amanda Bynes on Twitter for MONTHS? How?!
Could she be here to stay... ?
Or, is she just checking in before she returns to her busy college life?
We'll just have to wait and see.
But one thing's for sure -- the Amanda Bynes internet army is alive and well.
In honor of this glorious day, we must refresh our memories to remind ourselves about the comedic greatness that Amanda Bynes has contributed to society.
Welcome back, 'Manda!