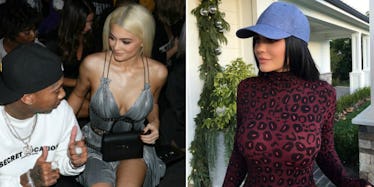 Kylie Jenner Fuels Boob Job Rumors Again Wearing Skin-Tight Top On Instagram
REX/Shutterstock/Instagram
When I was a child, I didn't realize that my letters to Santa were actually going to my parents.
Had I known this, I probably wouldn't have written, "And please let me grow boobs this year," for six years straight.
Well, it looks like Kylie Jenner got my Christmas wish this year because HOLY CRAP HAVE YOU SEEN THOSE BOOBIES?!
I don't want to be crass, but I'm sitting here like a cartoon wolf whose eyes are popping out of its head at the mere sight of a woman.
Naturally, those Snapchats spread the rumor that Kylie has gotten breast implants.
The 19-year-old reality TV star is apparently not squashing those rumors anytime soon because... well... have you seen her Instagram lately?
This photo was posted on Kylie's Instagram on Wednesday, while this video was taken on Halloween.
You have to admit there is a sizable difference.
But let me let you early-bloomers in on a little secret us late-bloomers all share -- it's all about the bra and the cut of the shirt.
I found out when I was a flat-chested teenager if I wore fitted turtlenecks with longer sleeves it made my humble-so-you-don't-confuse-them-with-mountains-Shakira bosom look like PAMELA ANDERSON'S... before she had her implants removed.
I suspect instead of breast implants, our girl Kylie is using the same trickery.
Basically, witchcraft. It looks like she's smuggling two honeydew melons in that animal print top.
Enjoy winter time while it lasts, my small-chested friends. Bask in the glory that is your bust size when you wear your turtlenecks.
Summer will be here soon, and V-necks and bikini tops will soon reveal the truth behind the boobs.
While Kylie's may have had her lips plumped, I don't suspect the 19-year-old has actually gotten her breasts plumped.
But what do I know? I'm not a doctor -- I'm just looking at a stranger's boobs on Instagram.
Citations: KYLIE JENNER You Look Bigger ... A LOT BIGGER (TMZ)