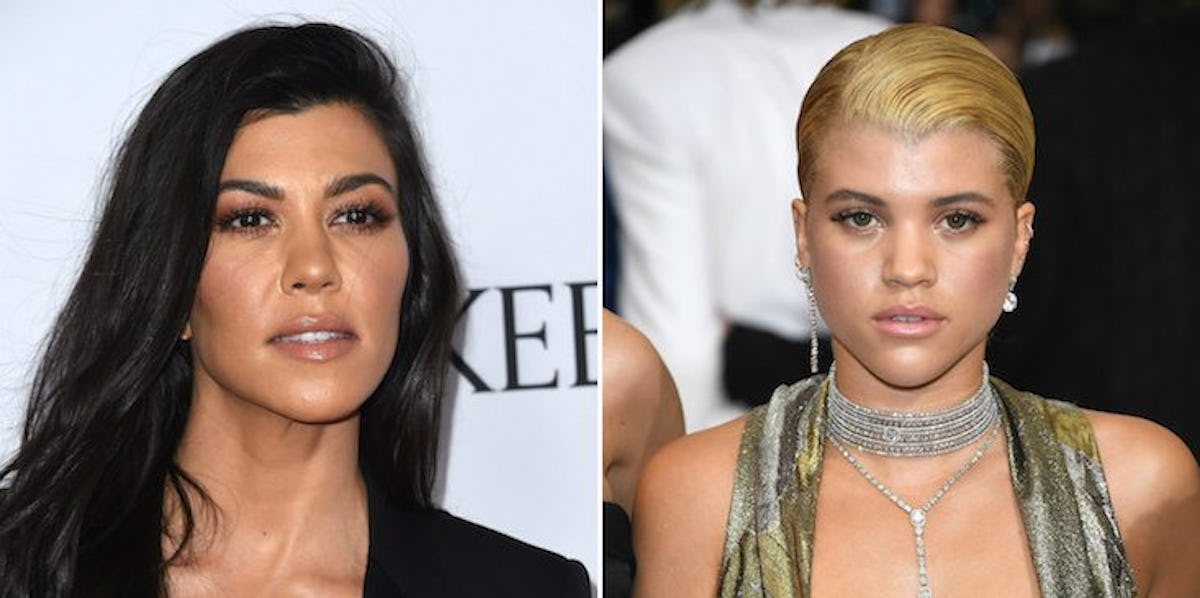 Here's How Sofia Richie Is Connected To Kourtney Kardashian, In Case You Forgot
CHRIS DELMAS / Stringer / Dia Dipasupil
I am forever uncomfortable talking, thinking, and writing about Scott Disick dating Sofia Richie. But, WE CAN'T JUST IGNORE THIS, CAN WE? The 34-year-old father of three has been linked on and off again to the 19-year-old model since the Cannes festival this past summer, and recently the two seem to be taking things to the next level. (Ugh.) Keeping Up With The Kardashians fans have been left reeling in the aftermath trying to make sense of everything. For example, everyone is wondering questions like: How did Scott Disick and Sofia Richie meet? Who flirted with who first? What gave them the great idea that they should become a "thing" in the first place? Are you guys cool with dominating our news feeds and taking up precious mental space I usually set aside for The Great British Baking Show? There are so many questions, so little internet.
Here's what we do know. Richie was initially part of a gaggle of young women Disick spent his time flirting with on and around yachts during the 2017 Cannes festival. At the time, a variety of photos surfaced of Disick hanging out with Richie and her fellow young startlets like actress Belle Thorne and DJ Chantel Jeffries. Baby mama Kourtney Kardashian didn't seem to give one little F, because at the same time, she revealed she was dating a younger model named Younes Bendjima.
After watching Disick pine for Kourt all of these years, the abrupt turn into a much younger crowd feels... off-putting (?), to say the least. As recent as this past week on Sept. 23, an alarming video featuring Disick and Richie kissing surfaced, and the two were seen being presented with some sort of congratulatory cake.
Your guess is as good as mine *cough* An engagement? A pregnancy? *cough* Lord, help us.
So, what DO Kourtney and Sofia have in common? Two words for you: The Biebs.
Let me take you back to a simpler time. The year is 2015. Donald Trump isn't president yet. Cronuts are about to hit their stride. Justin Bieber posted a photo of himself smashing a female up against a car who some thought might have been Kourtney Kardashian. The world was a simpler place.
Sure, some of us were a little bit like, "WTF, Kourtney?" but in a totally friendly judgemental way, not with any real panic. The two were spotted leaving an LA club together and, for a moment, Kourtney was the cougar to beat all cougars and Justin Bieber was the luckiest man in the world to be even graced with her presence.
Now, flash forward... I don't know... a few months? It's now August of 2016, and Sofia Richie is 18 years old. For a brief little moment in time, she and Justin were totally oh-my-god so cute and in love. The couple wasn't particularly private on social media, and Bieber even came to Richie's defense after there was an onslaught of negativity that came her way for dating him.
Posting a black and white photo of himself and Richie, Bieber wrote:
I'm gonna make my Instagram private if you guys don't stop the hate this is getting out of hand, if you guys are really fans you wouldn't be so mean to people that I like
What a knight in shining armor.
The relationship obviously didn't last, making Richie and Bieber quick exes hot on the heels of his fling with Kourtney.
So, is it too much of a leap to say they have the same taste in terribly immature men who literally can't help themselves to save their (social) lives? Not really.
Check out the entire Gen Why series and other videos on Facebook and the Bustle app across Apple TV, Roku, and Amazon Fire TV.