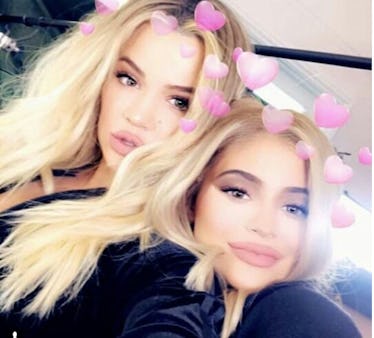 Kylie Jenner's Pregnancy Video Had The Sweetest Detail About Khloé & You Def Missed It
Instagram/Khloe Kardashian
I don't know what it's like to have sisters, but I assume it's just like what I see in Keeping Up With The Kardashians. Actually, I'm convinced the Kardashians are my real sisters IRL. Kourtney, Kim, Khloé, Kendall, Kylie, and Kamie. That's me. It's been such a joy to watch Kylie's family surround her after the birth of her new baby girl, and the scenes of Kylie Jenner and Khloé Kardashian in her pregnancy video are some of my favorite. Mostly, it shows just how in sync this group of siblings really is. Also, I sort of trust Khloé with my life and always feel better when she's around. Ya feel me?
As we all know, the world heard rumors about Khloé's and Kylie's pregnancy around the same time. I've never been pregnant, but I imagine it's way more fun and easier to deal with when someone you love and trust is going through it, too. Plus, Khloé and Kylie have always seemed like kindred spirits. They have a similar sense of fashion, makeup, and general no BS attitude toward life and love. Imagining these two getting their perfectly manicured fingernails painted while rubbing their pregnant bellies makes me weirdly jealous, and the footage of them in Kylie's pregnancy video is just the best.
As part of Jenner's birth announcement, she and her boyfriend Travis Scott released a now famous video on YouTube titled "To Our Daughter." It features behind-the-scenes footage of Scott and Jenner's relationship, as well as their pregnancy journey. And, you better believe Khloé has some awesome cameos. In fact, the video shows she's been by Kylie's side since literally day one.
The video opens on the day Kris Jenner gave birth to Kylie.
We see Kris in a hospital bed, and right there beside her is a young, teenage Khloé (sporting white overalls, might I add). Take a look.
In beautiful, poetic magic-ness, the video ends with Khloé hanging out by a hospital bed again, but this time she's next to Kylie while she's giving birth. The footage is a little blurry, but we can clearly hear Jordyn Woods say "Khloé's here."
This time, she left the overalls at home.
LIFE IS A FLAT CIRCLE... OR SOMETHING.
There's also a beautiful scene of the two sisters hugging, touching pregnant bellies, and twinning-out like woah. You guys all remember the famous twin picture Khloé shared, right?
Could it have been from the photo shoot in the video???
I think Rob Kardashian summed up the public's feelings best when he posted a photo of his pregnant sisters and the caption,
Still in shock. Never in a million years would ever think Kylie and Khloé AND Kim would be would be pregnant together! I'm so happy for you @kyliejenner, @khloekardashian, AND @kimkardashian ALL LOVE, & keep loving! (And yes I know Kim and Kylie both aren't pregnant anymore AND yes I know kim had a surrogate. In my eyes she was still pregnant ) PLEASE read caption before commenting dumb nonsense comments ..Spread happiness, and positive vibes!!! K
Khloé's response to Kylie's announcement was also so sweet, even though she clearly knew about the pregnancy all along. She shared the same picture as Rob with her own message. Khloé wrote,
Congratulations My Sweet Kylie! What a magical ride it's been! I'll miss you bumping along with me. Never in a million years did I think we would do this together but it's been that much more special because of it. God is so great!! He had His plan all along! I love you little mama 💕 love big mama
Sisters, please call me. I'm missing you, thinking of you, and would really like to be included in the family Christmas card this year.
Until then, go with Goddess.
Check out the entire Gen Why series and other videos on Facebook and the Bustle app across Apple TV, Roku, and Amazon Fire TV.