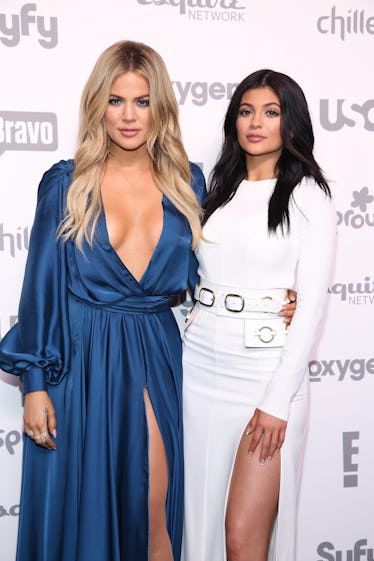 Kylie Jenner May Have Slipped In A Giant Clue About Khloé In Her Pregnancy Video
Robin Marchant/Getty Images Entertainment/Getty Images
It is 2018, and there are not one, not two, but three new Kardashian-Jenner babies either in the world or on the way. How we have been blessed. But we might be blessed even more, shortly — thanks to a hint about a possible baby bump photo shoot. After Kylie Jenner announced her baby's birth in a YouTube video, fans are thinking that there may be something else to look forward to — namely, a pregnancy photo shoot for Kylie Jenner and Khloé Kardashian. Could we be so lucky?
There's a whole lot to love in the 11-minute video that Jenner put up to announce the Feb. 1 birth of her baby girl. The video (almost) makes up for the months and months of rumors about whether or not Jenner was pregnant, which started in September 2017. Fans were, of course, eager to know the truth, and we were all super frustrated that Jenner wasn't spilling the beans. The video helps with that frustration by sharing behind-the-scenes moments, like ultrasounds, baby showers, and family dinners. But there's one moment in the video that has everyone raising their eyebrows — a quick shot of Jenner's pregnant belly pressed against another pregnant belly. Whose pregnant belly might that be?
Well, there's every chance in the world that it's Khloé Kardashian's, and the two sisters did a pregnancy photo shoot together before Jenner gave birth. Man, I hope so. Check it out, around the 7:00 mark below:
The video shows two women in black pants and black sports bras, touching their bellies briefly to the sound of a camera shutter. One looks further along in her pregnancy than the other — which would make sense, since we know that Khloé is only about seven months pregnant, as of early February.
So does this mean that we're going to get a beautifully staged maternity photo shoot, as turned out as the Kardashian-Jenner clan can do? Maybe, like, an extra edition of the Kardashian Kristmas Kard? We can only hope.
Either way, Kylie Jenner's pregnancy is clearly the gift that keeps on giving.
Kylie Jenner wasn't the only member of the Kardashian-Jenner clan for whom we were eagerly waiting a pregnancy confirmation, after all.
Shortly after the rumors of Kylie's pregnancy hit the internet, her older sister Khloé was rumored to be expecting as well. Both sisters kept it more or less under wraps, only posting neck-up images on social media and wearing very baggy clothes any time they might be caught on camera.
But on Dec. 20, Khloé spilled the beans (about herself, at least) on Instagram, posting a photo of her pregnant belly with her boyfriend, Tristan Thompson's, hands wrapped around her. She wrote,
My greatest dream realized! We are having a baby! I had been waiting and wondering but God had a plan all along. He knew what He was doing. I simply had to trust in Him and be patient. I still at times can't believe that our love created life!
And that's not even all the baby news.
On Jan. 16, big sis Kim Kardashian announced that she and husband Kanye West had welcomed their third child — a little girl named Chicago — via surrogate. She wrote in a statement,
January 15, 2018, 12:47 a.m., 7 lbs 6 oz. Kanye and I are happy to announce the arrival of our healthy, beautiful baby girl. We are incredibly grateful to our surrogate who made our dreams come true with the greatest gift one could give and to our wonderful doctors and nurses for their special care.
So in case you've lost count, that's two little girls — and another baby on the way — all to be born within three months of each other. Congrats to all the new parents (and parents-to-be). I just can't wait for the 2035 season of Keeping Up With The Kardashians.