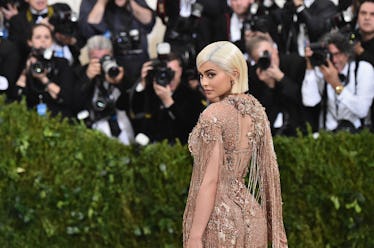 Kylie Jenner's New Mansion Is Being Built Where Those Baby Bump Pics Were Taken
Mike Coppola/Getty Images Entertainment/Getty Images
You could be one of many who believe that Kylie Jenner is, without a doubt, "with child." But you also might think that the young celeb has merely been MIA because she's just an independent woman seeking out a little me-time. Either way, Kylie was filmed earlier this week strolling along a construction site, clad with what many suspect to be that ever-elusive (and still not-yet-confirmed) baby bump, and we're just now finding out that Kylie Jenner is actually building herself a mega mansion. With a mansion as big as this one, we're now really suspecting that it could be for the purpose of starting a family.
For months, Jenner-Kardashian fans, as well as social media trolls (myself included), have gone back and fourth as to whether or not if Kylie is pregnant with Travis Scott's baby. While we can't reiterate enough that nothing has yet been confirmed from the lovely celeb couple, there have been several possible (and kind of subtle) hints from family members on Keeping Up With the Kardashians, as well as from Kylie's friends all over social media. And whether or not you're totally convinced if she's preggers, we now know for certain that Kylie is currently in the process of building herself (and maybe her family to-be) a really giant mansion. In the famous words of Kris Jenner, "this is a case for the FBI."
Elite Daily has reached out to Kylie Jenner's team, but has not heard back by the time of publication.
According to TMZ, photos of Jenner taken earlier this week were at a construction site in Hidden Hills, a city and gated community in Los Angeles, California. Per TMZ, building permits of the site show that the lot is expecting a soon-to-be mega mansion, where Kylie is apparently having a new place built for her. But knowing Kylie, she won't just be building any plain old mansion. The building permit, created in December, values the coming mansion at $2.37 million, but there's much more where that came from.
As for details on the house, according to TMZ's investigations, the permit calls for a 9,187 sq. ft. first floor, a 5,304 sq. ft. second floor, two really giant garages (1,200 sq. ft and 1,468 sq. ft), 1,836 sq. ft. of some classic covered porches, and finally, a cabana for the pool (because with every awesome mansion comes a pool, and a pool house, obviously). And while that giant a house could be, uh, pretty spacious for one person, it's absolutely perfect for a famous family like Kylie, Travis, and a potential little baby. Right? We're not wrong.
Many are also speculating that photos and the video of Kylie clearly show a baby bump. The video, which was taken by reporters at TMZ, show Jenner, her BFF, Jordyn Woods, and mom, Kris Jenner, walking through the giant construction site. In a photo of Kylie climbing into the front seat of a car, also snapped by TMZ, many claim to spot a baby bump emerging from underneath Kylie's black shirt. Some fans still aren't seeing the bump, and we really won't know until Kylie's team gets back to us... or until she actually gives birth (which could actually be soon, based on the fact she's been laying low for about nine months).
So whether or not you actually think that Kylie is actually about to have Travis Scott's baby, there's no doubt that the timing of buying a mega-mansion is suspiciously convenient. And if her mansion is for her family to-be, or if it's just for her to revel in all her glory, we're still pretty torn based on those (possibly) pregnant construction site snapshots of her.
Check out the entire Gen Why series and other videos on Facebook and the Bustle app across Apple TV, Roku, and Amazon Fire TV.