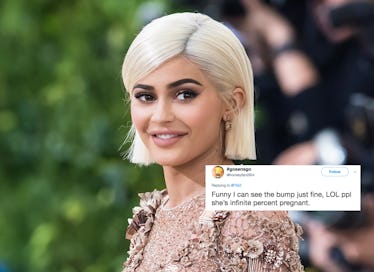 There's A New Video of Kylie Jenner & Fans Swear They See A Baby Bump
Kylie Jenner has still yet to confirm or deny her reported pregnancy, but this new video of Kylie Jenner has people convinced they can see a baby bump. The video, taken by TMZ, shows Jenner, Jordyn Woods, and Kris Jenner walking through what looks like a construction lot. The photo taken by TMZ shows a hint of a bump under Jenner's baggy black shirt and the video shows her getting into the front seat of a car. As she gets into the car, the video pauses, and you can sort of make out a bump. You can see the photo of Kylie Jenner here. Some fans, however, aren't buying it. They don't think they can see a bump at all.
Jenner's reported baby bump was the topic of conversation earlier this week, as well (when is it not?). All of the Kardashian sisters appeared in a Calvin Klein ad that was launched nationwide this week. They're all wearing Calvin Klein underwear in the photos and promotional video. But fans noticed right away that Jenner was covering her stomach with a blanket in the photos and they think she was covering her reported baby bump. There were also paparazzi photos of Jenner taken in September that resurfaced around Christmas. In the photos, Jenner seems to have a bump. Fans were convinced this was the proof of Jenner's reported pregnancy they were waiting for.
This TMZ video hasn't convinced everyone.
But some people are just like, "Guys... of course she is."
Even if she isn't pregnant and there isn't a baby bump in that TMZ photo and video, this is the first new photo we've seen of Jenner since she basically went into hiding in September. Fans thought they discovered photos of Kylie Jenner shopping in CVS recently, but in my opinion, there's literally no way Jenner would've hidden her life for so long just to have everything go to sh*t by going to CVS.
Also, the woman in those CVS photos doesn't even look like Jenner. Don't even try to tell me she does.
This whole pregnancy has been a whirlwind of confusion. Each day we get new information that could prove she is pregnant followed by information that could prove she isn't. For example, People reported on Jan. 24 that Jenner is reportedly "definitely ready" to have her baby. A source told the outlet, "Kylie is definitely ready for baby to arrive!" They continued, "Coming up on the end of pregnancy, there are a lot of different emotions. She's excited, she's anxious … there are a lot of feelings, but she's ready for what's next." So, she's ready to give birth, but we still haven't had these rumors confirmed or denied?! Color me confused.
Despite the extreme lack of clarity on all of this, Jenner is reportedly expecting a baby girl and will give birth in February, People reports. The reported baby will be her first child, as well as boyfriend Travis Scott's first child. Since February is literally only six days away, we could very well be welcoming another Jenner baby into the world very soon. But we probably won't hear anything from Jenner and the family until after the baby is born, as Jenner has apparently decided to keep things under wraps until then.
Fans are done with the waiting, though. They're ready for the truth, Kylie!
Some fans think her keeping the pregnancy a secret for so long is really funny.
One thing's for sure: If and when Kylie Jenner ever does confirm her pregnancy, the internet is going to shut down forever. It won't survive this. Say your goodbyes now and prepare for a life without your laptop... Kylie Jenner's baby (might be) coming.