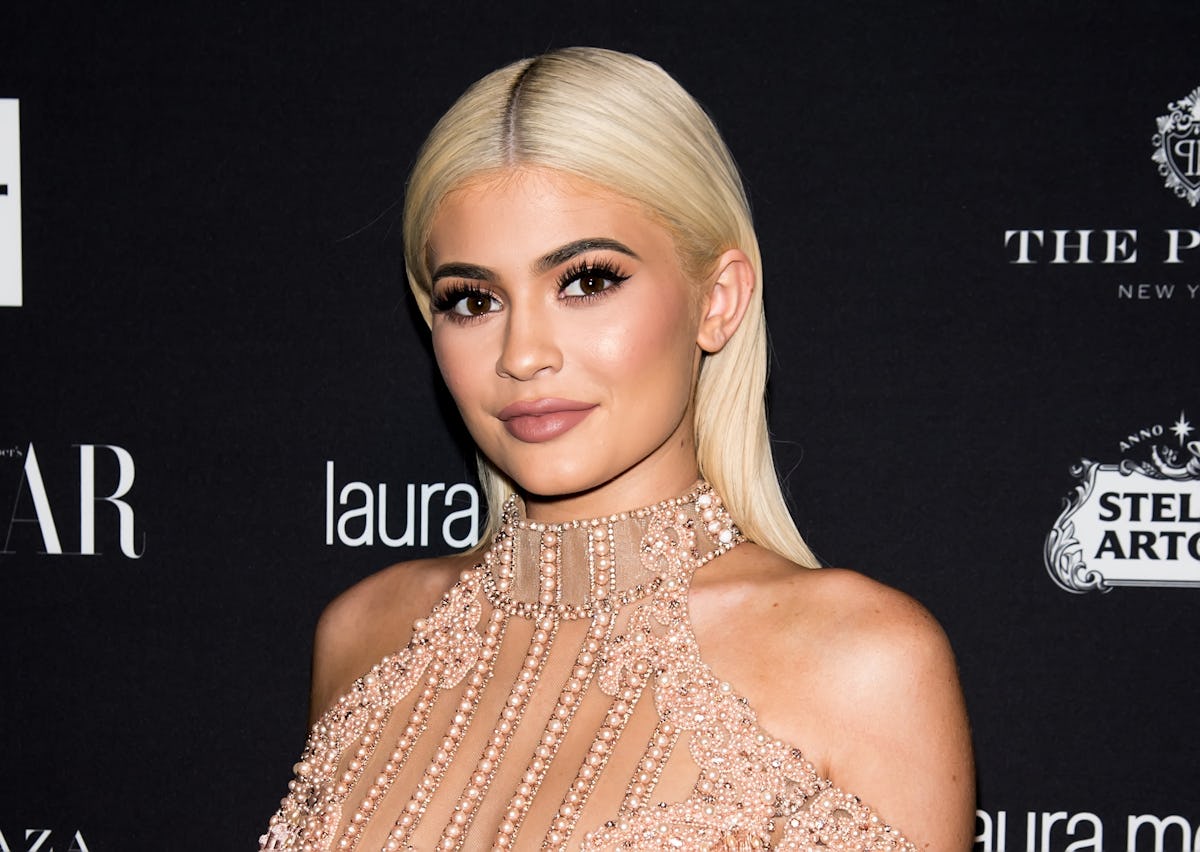 Photos Of Kylie Jenner's Baby Bump Are Here, But Fans Are Still Skeptical
The first photos of what appears to be Kylie Jenner's baby bump might be here, guys! But before you get too excited, it's important to note that the validity of these pictures hasn't been confirmed, so view them with a healthy dose of skepticism. But fans think the first photos of Kylie Jenner's baby bump have finally surfaced after months and months of waiting. Elite Daily reached out to Jenner's team for comment, but did not hear back by time of publication. The photos in question are from a surprise birthday party Jenner reportedly planned for her best friend, Jordyn Woods.
Harper's Bazaar reports the birthday party was held at Will and Jada-Pinkett Smith's house in Calabassas back in September (Woods' birthday is Sept. 23). This party wasn't a secret, but the photos have recently resurfaced with fans realizing that the blurry photos of Jenner could possibly be confirmation of her pregnancy. Again, this theory and Jenner's pregnancy are not yet confirmed, but fans think they can see Jenner's reported bump underneath the baggy sweatshirt she's seen wearing in the pics. Looking at the pics myself, it's pretty hard to deny that I can see what resembles a bump... but until Jenner confirms any of this herself, I refuse to let myself believe the rumors for the sake of my own sanity. I need facts!
The photos of Kylie Jenner's reported baby bump can be found here. What do you think? Baby bump or no baby bump?
Fans think this is the confirmation of Kylie Jenner's reported pregnancy they've been waiting for.
Before this, fans were pissed Jenner was nowhere to be found in any of the Kardashian Christmas card photos. By the time Christmas came around, most of Jenner's fans (and people who aren't fans but are sucked into this Kardashian baby boom) believed Jenner would confirm her reported pregnancy on day 25 of the Kardashian Christmas card. She didn't, and the internet was disappointed as hell.
See? Not pleased.
When you think about it, though, it is pretty impressive that Jenner has been able to keep photos of her reported bump (if she actually is pregnant) under wraps ever since the rumors started back in September. It means that none of her friends have posted photos, and neither have any of her family members. It also opens the possibility that some fans might have seen Jenner since she took a break from the spotlight and decided not to expose her by posting any pics they might have taken. On top of all this, it's honestly just really mind-blowing that Jenner was able to keep herself out of paparazzi photos for so long. Considering she's one of the most famous 20-year-olds in the world right now, that's a feat.
Still, fans want to know if she's really pregnant or not. But no one in the Kardashian/Jenner family is spilling any information. It's been a wild ride ever since rumors that Kim and Kanye were having a third baby via surrogate started over the summer. Since then, Kylie Jenner and Khloé Kardashian's reported pregnancies have made headlines, but Kim and Khloé Kardashian are the only ones who confirmed they have babies on the way. Kim was the first to confirm, and Khloé was the second. Now, as the internet impatiently waits for Kylie to either confirm or deny hers, we can fawn over Khloé Kardashian's pregnancy announcement.
The middle Kardashian sister confirmed her pregnancy via Instagram on Dec. 20.
Her post said,
My greatest dream realized! We are having a baby! I had been waiting and wondering but God had a plan all along. He knew what He was doing. I simply had to trust in Him and be patient. I still at times can't believe that our love created life! Tristan, thank you for loving me the way that you do! Thank you for treating me like a Queen! Thank you for making me feel beautiful at all stages! Tristan, most of all, Thank you for making me a MOMMY!!! You have made this experience even more magical than I could have envisioned! I will never forget how wonderful you've been to me during this time! Thank you for making me so happy my love! Thank you to everyone for the love and positive vibes! I know we've been keeping this quite but we wanted to enjoy this between our family and close friends as long as we could privately. To enjoy our first precious moments just us Thank you all for understanding. I am so thankful, excited, nervous, eager, overjoyed and scared all in one! But it's the best bundle of feelings I've ever felt in my life!
According to reports, Jenner won't be confirming any kind of pregnancy rumors until after she's given birth. While this is all info from anonymous sources and not confirmed by Jenner herself, a source told People, "Kylie isn't going to publicly address her pregnancy until she gives birth. She's not doing any public appearances and just wanted to take six months off." And now, we wait... even longer than we already have been...