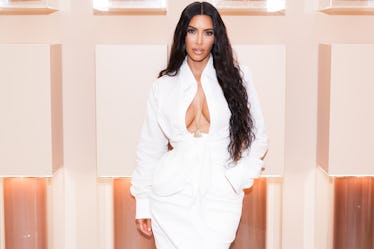 KKW Beauty's Holiday Collection Features A Few Products The Brand Has Never Released Before
Presley Ann/Getty Images Entertainment/Getty Images
Sometimes, holiday collections simply feature a beauty brand's best-selling favorites in newer, sparklier, more festive packaging. However, some brands take it to the next level and use the holidays as an opportunity to launch new and exciting products; as you can guess by the title of this article, KKW Beauty is the latter sort of brand. In fact, KKW Beauty's Holiday Collection includes multiple brand-new products, the most exciting of which, IMHO, include Kardashian-approved false lashes, liner, and mascara. Hallelujah.
Rather than go all out on festive packaging like her sister's beauty brand, Kylie Cosmetics, is so well-known for doing, Kim Kardashian West decided that she'd celebrate the holidays while staying true to her brand's signature millennial nude shade. That doesn't mean she isn't giving us something new to talk about, though — in fact, KKW Beauty just took to Instagram to announce their holiday bundle, and it's got enough glam beauty goodness to make Mario Dedivanovic want to revamp his kit.
Behold the Glam Bible Smokey Volume I, a bundle I never knew I needed, but now am desperate to get my hands on:
First of all, I love the name "Glam Bible," since avid watchers of Keeping Up With The Kardashians will know that "Bible" is a phrase often used amongst the sisters. More exciting than the bundle name, though, is what's inside: an all-new Eyeshadow Palette with six smokey shades, one Créme Eye Liner, one set of false lashes, one Mascara, one Créme Lip Liner, two Créme Lipsticks, one Gloss, one Blush and one Highlighter. Spoil us, much?
Because the packaging of all the KKW Beauty products is so similar in appearance, you might not even notice all the newness in this lineup until you take a good, hard look. This is the brand's first-ever mascara, eyeliner, and set of lashes, and all three combined are undoubtedly the secret to mastering Kim's signature smize.
According to the brand, the holiday kit is a collection of Kardashian's must-have essentials:
The 10-piece set will retail for $150, which is a pretty good deal considering that boils down to $15 per product:
The Glam Bible Smokey Volume I hits the KKW Beauty website on Black Friday, November 23, at 12PM PST, and based off of the "Volume I" hint, I'm guessing we might see a few more versions of the Glam Bible in the future. Will the brand tease more volumes this year as part of a larger holiday collection, or will they continue adding volumes in future new collections? Either way, a smokey look seems like a great place to start, as holiday glam tends to be a little more dramatic than standard day-to-day looks, and with so many brands opting for full-on glittery glamour, it's sort of refreshing to see something a little more sooty and sultry.
Bible, if these products look half as good on me as they do on Kardashian in the ad campaign, I will be over the moon:
I don't know what we did to deserve so much KKW Beauty newness all at once, but I'll call it a holiday miracle and just say thank you. BTW, not for nothing, but Mario Dedivanovic himself took to Instagram to let us know that the lashes are bomb, so now I'm even more excited. Obvi, I didn't doubt they'd be good, but now that I know they're both Kardashian-approved and Dedivanovic-approved, I'll be patiently waiting until KKW Beauty launches a multi-pack option, because I'm going to need more than one pair to get me through the holidays.