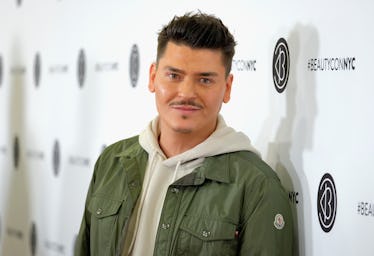 A Mario Dedivanovic Makeup Line Is Coming In The Future & Obviously, It's Going To Be Perfection
Matthew Eisman/Getty Images Entertainment/Getty Images
Just when I thought he'd solidified himself as forever a collaborator, renowned makeup artist Mario Dedivanovic has unexpectedly dropped some hints guaranteed to keep the entire beauty community on its toes. As The Master Class guru and glam god to major celebs, including the Kardashians and the like, there's no denying Dedivanovic is one of the most major faces in beauty — both on and off Instagram — and it seems he's finally ready to take the next step in sharing his talents and wisdom. That's right, people: Mario Dedivanovic's makeup line is officially in the works.
Prior to working with Kim Kardashian way back in 2008 and ultimately skyrocketing to makeup artist fame, Dedivanovic's first brush with beauty was a job he scored working at Sephora in the fragrance department. Fast forward 10 years, and he's now one of the most iconic makeup artists in the world — and he's got the clientele and collaborations to prove it. Kim K can't post a selfie without Dedivanovic's fans flooding the comments with compliments about his glam skills. However, there's no denying his incredible talent is the foundation on which his fame stands. No wonder celebs like Demi Lovato, Ariana Grande, Gabrielle Union, Kate Bosworth, and Bebe Rexha ended up wanting to work with him as well — who wouldn't want the best?
Celebs aren't the only ones eager to benefit from Dedivanovic's makeup magic — his fans want in, too. And after a new interview with WWD, it looks like he's finally ready to give the people what they want: his very own makeup line.
"I've been getting approached and asked by companies and investors for many years," he told WWD. "Up until the past two or three years, I never felt worthy enough because I felt like I needed to have at least 20 years of experience as an artist to do that. It's a big deal for me. That would be a next chapter of my life, my career. I'm on almost 19 years now of being a makeup artist, so that 20-year mark is approaching."
While he hasn't got anything locked down just yet, he did go on to confirm that there will definitely be a line when the time is right, as he's prioritizing the quality and the products, not making a buck on any old thing he can get to market quickly. "The thing with the makeup line is that there definitely will be one in the future," he said. "I'm a perfectionist. People expect something great from me and I expect something great from myself. I've had a couple of opportunities that I walked away from — I mean multi, multi, multimillion-dollar deals that I've walked away from — because in the end, during the contractual period and attorneys and all that, I didn't get what I wanted. Walked away literally from gazillions of dollars."
Right off the bat, fans had high hopes Dedivanovic would release a makeup line so that they could learn from his product preferences, but when he collaborated with Anastasia Beverly Hills in 2016 on the limited-edition smash success Master Palette by Mario, it didn't seem like the launch of a personal brand was soon to follow.
Since then, he's gone on to share his wisdom, not via a makeup line launch, but instead through offering of pricy — but so worth it, IMHO — in-person makeup lessons known as The Master Class. Attendees of The Master Class get to watch first-hand as Dedivanovic does his thing, glamming a model (who is occasionally Kim K herself) and talking through the process step by step. They then leave with a goody bag chock full of Dedivanovic-approved products, which is almost as good as Dedivanovic-created products — but not quite.
Fans who couldn't afford The Master Class or didn't live close enough to attend one still wanted more, so to commemorate their 10 years of friendship, Dedivanovic and Kardashian collaborated on the KKW x Mario Collection ($85, kkwbeauty.com), featuring a 10-pan eyeshadow palette (that perfect, radiant blue, tho), a nude lipstick, and two glosses.
It seemed that Dedivanovic would forever be collaborating and never creating a line of his own — but according to his WWD interview, even though he's been developing product for the past three years, he has resisted the urge to launch his own line in the midst of what is, often overwhelmingly so, a superabundant time in the beauty sphere, with new lines and products launching practically a dozen times a day.
"It's overwhelming even for me as a professional," he explained. "Even if there's really good stuff coming out, it's probably overshadowed and you don't even see it or notice it because of all the stuff that's coming out. I'm totally OK waiting a little bit. Maybe this bubble's gonna burst, which I think people are afraid of, whereas me, I'm not afraid of that. If it bursts, it bursts. Maybe then it will be about quality and not quantity."
As far as I'm concerned, Dedivanovic can take his sweet, sweet time crafting the perfect collection — it will undoubtedly be worth the wait. When he's ready, I've got a nice spot in my makeup collection reserved for said future launch, right next to my ABH Master Palette by Mario and KKW x Mario collab, natch.