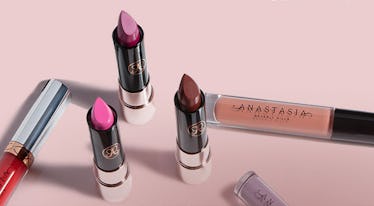 Anastasia Beverly Hills Lip Products Are BOGO For National Lipstick Day, So You Can Rock All The Lewks
OK people, National Lipstick Day is finally here, and I really need to know: What kind of look are we thinking? A long-wearing liquid lip in a summery coral? A sheer yet plumping pink? And what about when National Lipstick Day transitions to National Lipstick Night? Are we planning to reapply a new shade to make the most of our special holiday? If you're leaning toward yes, then get excited, because the Anastasia Beverly Hills National Lipstick Day sale just made securing multiple shades easier — and cheaper — than ever.
Anastasia Beverly Hills began as a brow-focused brand, but since then, they've expanded into tons of different color cosmetics, and their lip products are some of their best. To celebrate National Lipstick Day, they're gracing us with the ultimate deal: a buy one, get one free sale on all the lip glosses, lipsticks, and liquid lips on their site. Are you gasping? That news made me gasp. It's a big deal. They've even expanded the buy one, get one discount to the Sephora website as well, so you can save no matter which site you're on. Or, if you're like me, you can buy a few from both, because I have a makeup addiction, and a girl's gotta have her options.
If you're unfamiliar with the ABH lippie formulas, allow me to break them down for you. Their classic bullet option is the Matte Lipstick ($18, Anastasia Beverly Hills), and the formula is super pigmented for high-voltage color. The extra-pointy bullet tip is also helpful for applying without a lip liner, as it allows you to be more precise. The lipsticks are available in 36 shades, from nudes like "Soft Touch" to a pure black called "Midnight." Big mood alert.
If a classic formula ain't yo thang, you can be hip and rock a liquid lip. The Liquid Lipsticks ($20, Anastasia Beverly Hills) are a fully opaque matte formula that goes on comfortably and won't feel too drying throughout the day. As a testament to how popular they are, there are a few colors currently sold out on the ABH site, but you can still snag some fun shades like teal "Insomniac" and cool-toned lilac "Clover."
The final formula available as part of the brand's BOGO sale is the High Shine Lip Gloss ($16, Anastasia Beverly Hills). If you aren't looking to switch up your lip entirely when you transition from day to night, adding a gloss to your current lipstick can change up the look almost instantly, so these are a perfect pick if your National Lipstick Day doesn't call for multiple lip changes. If you like a smooth, pigmented gloss, a ruby red like "Socialite" might be right up your alley, but if you're one for a little shimmer, I recommend "Venus," which has the pink and gold sparkly sheen of my wildest lip gloss dreams.
Have some options in mind now? Happy to be of service. Shout out once again to Anastasia Beverly Hills for blessing us with this major deal, as it's not often a best-selling product goes on sale. The brand is riding high after just releasing their latest smash-hit eyeshadow palette, the Norvina Palette ($42, Sephora), so really, they didn't need to go out of their way to do us a favor, but I'm so glad they did. Catch me rocking one — or two, or all three — of their formulas on July 29 for National Lipstick Day, because thanks to this incredible sale, I have no excuse not to buy.