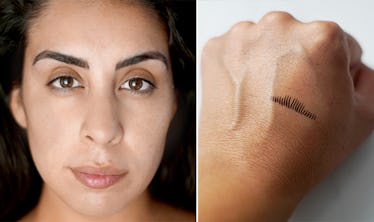 This $5 Brow Pen Will Make Your Eyebrows Look Like They've Been Microbladed
Stephanie Montes
I've always had really thick and full eyebrows. I hated them in middle school, and I don't love the amount of maintenance it takes to keep my unibrow from growing back, but I appreciate them now. When microblading came onto the scene, girls with thin and sparse brows flocked to the new service, but I sat back. It's a good thing I didn't need it, because the idea of having ink razored into my skin terrifies me. On the other hand, though, microblading looks so good. To fill the void, I did my own Salon Perfect Brow Marker review, and I finally have the look of microbladed brows without the pain, aftercare, or expensive bill.
My daily makeup routine includes an eyebrow pencil that I like to use before and after combing my brows with a spooley brush. They usually look darker, fuller, and filled-in, but they never get that stroked effect that microblading gives you. I've tried brow markers before (the kind with a really thin tip) to create a natural-looking hairlike stroke. And I really like them, but drawing a single hair at a time can be time-consuming, not to mention impossible to get a uniform look.
So, when the Salon Perfect On Point Tri-Tip Brow Marker ($5; Walmart) landed on my desk, I couldn't help but be intrigued by this triple-pointed felt tip. It looks interesting, but what can it do? Being the curious beauty editor that I am, I swatch a few strokes onto my hand, and wow! The trio of felt tips makes it look uniform and straight, just like a microblade would — and I draw them on in a third of the time. So far, so good.
So, now that I had tried a few practice strokes, it was time to move onto my actual eyebrows.
I have really dark hair, so I like to fill in my brows to round out my look. I also have a few sparse areas around the arches and inner corners, so filling them in really takes care of these areas.
The first thing I noticed about the Salon Perfect Brow Marker was how similar it looks to a real microbladed brow. If you like that look of super crisp strokes, this is about to be your new favorite product.
The second thing I noticed was how quickly it dried. I have mixed feelings about this. On one hand, there's less of a risk for smudging and smearing, but on the other hand, you have to work quickly, and with a steady hand. However, if you mess up, you can still run a comb through your brows to blur any harsh lines, though that defeats the purpose.
After filling in my right brow, I was already prepared to make room for my new marker in my everyday makeup bag. The final look is natural, while still looking so much more refined, even on my makeup-free face. My brows look fuller, but not in a filled-in way — you can actually see individual strokes. Ultimately, it's hard (even for me) to tell the difference between the real hair and the marker.
Slide to see my before and after:
If you've been as terrified of the microblading process as I've been (I mean, it's a face tattoo!), but also appreciate the look of impeccably groomed brows, this $5 marker is your saving grace. It costs you less than most morning coffees, and it gives you perfect brows without the pain and multiple sessions required. And what's more, this brow marker is completely waterproof, which is about all a beauty junkie could ask for now with pool-party season and sweltering temperatures upon us.