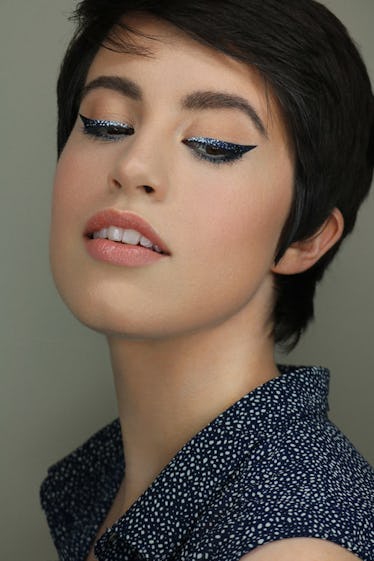 25 Common Beauty Questions Answered By A Makeup Artist Who Isn't Judging, I Promise
I'm a cosmetic Nancy Drew. I'm addicted to solving the makeup mysteries of my family, friends, followers, and straight-up strangers. Are you stymied when your foundation gets patchy, or perplexed when you sniff your Beauty Blender and it smells like actual death? Perhaps you've dreamed of having your common beauty questions answered by a makeup artist so you don't have forge out into the glamorous minefields of lip liners, plumpers, and balm without the right weaponry? Alas, I happen to be a real, living professional makeup artist myself, and I can sense your fear, so let's face it together.
Makeup is easy once you learn basic theories, but damn near impossible when you have to figure it out yourself. No human is born knowing the difference between concealer and foundation. We're not even born knowing that 2+2=4. Somewhere along the line, a patient teacher gave us the answer and explained to us why it makes sense. Makeup is the same way. Once someone explains to you why different brushes serve different purposes, you will never forget it. So don't be afraid to ask the questions you think are basic, because we have all been there at one point or another. I've taught 13 year-olds and 80 year-olds how to properly use eyeliner. There's absolutely no shame in the makeup game.
To get a neutral pool of questions, I asked the Elite Daily team to send me their beauty quandaries, and while I laughed (out loud, perhaps guffawed is a more accurate adjective), I never judged.
1. How Often Do You Really Have To Clean Your Beauty Blender ($20; Sephora)?
Good question TBH. In theory, all makeup sponges should be cleaned before use. Between applications, dust, dirt, and bacteria collect on your sponge. If you just dab it straight on to your face, all that grossness is going right on to your skin. I have super sensitive, easily-inflamed skin myself, so I have to give my sponge a quick clean every morning. It's not as annoying as it seems, though, because I head to the bathroom to dampen the sponge before makeup application anyway. I quickly swipe my sponge through some solid cleanser while the sink water is running, which takes all of 30 seconds. Another tip: store your sponge somewhere clean, don't just throw it back into your makeup bag.
Will you die if you don't clean your sponge everyday? Absolutely not. Everyone's skin is different, so you might not even experience breakouts from the copious amounts of dust and bacteria sitting on the sponge's surface. However, cleaning your beauty blender regularly will also help it live up to its 3-month lifespan, and IDK about you, but I'm not into spending money on a new sponge before time's up.
2. What Are You Really Supposed To Clean Your Beauty Blender With? Are Water And Soap OK?
Depends on the soap! If it's a soap gentle enough for sensitive skin, it will be gentle enough for your Beauty Blender. It should be something strong enough to break down the makeup caked into the sponge, but not so strong that it starts to wear down the expensive material. Baby soaps and Dove bars (which are highly recommended by some beauty vloggers and makeup artists) will get rid of the bacteria, but they won't really get rid of the makeup, which may affect how the sponge works over time. I've heard of some artists using Palmolive dish soap, which will break down the makeup in the sponge, but will also dry out the material it's made of. Adding olive oil to a dish detergent solution doesn't really help either, because it's like putting a bandaid on the problem. It kinda-sorta rehydrates the surface of the sponge, but the material itself is already breaking down.
I'm lazy, so I generally just buy the Blendercleanser Solid ($16; Sephora), which lasts me quite a while. If you want to save a couple bucks, you can grab the Sephora Collection Solid Clean: Solid Brush Cleaner ($14; Sephora), which for all intents and purposes works the same way. I find that solid soaps give me a lot more bang for my buck because a little goes a very long way. If you really don't want to commit to a solid soap, use your daily face wash to clean it (as long as it's gentle).
3. How Do You Know Which Brush Does What?
There are a few factors you have to consider. Bristle hair is the first. Synthetic brushes work with liquids and creams, like foundation and concealer, because the hair isn't porous. Synthetic brushes distribute product right back on to your face back onto your face, which means you won't be wasting $3 of foundation every time you apply it. Natural hair brushes work best with powders, because natural hair is porous. The brush will pick up the perfect amount of nearly weightless powder, but will allow the product to distribute back on to your face. You can quickly destroy a natural-haired brush by using a heavy amount of liquid with it. The bristles will start to hold on to too much product and clump together.
Secondly, size matters. If it's a large area, like the whole face, use a larger brush. If it's a smaller area, like an eyelid, use a smaller brush. Easy AF.
Lastly, consider the shape. Flat brushes are great for saturating or packing on color. Fluffy brushes are better for sheer coverage or diffusing hard lines and edges. With flat you pat and fluff you buff.
That being said, use your best judgement. These rules are in place as a guide because they always ring true, but of course, whatever works best for you with work best for you. Sometimes I use a natural-haired crease shadow blending brush intentionally to sheer out a thicker concealer under the eye because I know the porous hair will eat up excess product. Follow these rules to avoid major makeup mistakes, but experiment with different brushes and techniques when you can.
Now let's talk about skin, bb.
4. Why Am I Breaking Out Always?
Dude, good question. Actually, this is a question that can only be answered with more questions. Do you wash your face in the morning and at night? Is your skin sensitive to certain ingredients in products? Do you eat foods you know your sensitive to? Do you just break out during your period? Are they white heads or black heads? Do you wash your makeup off at night? Skin is like a crying infant: it can't tell you what's wrong, so you just have to try to narrow the causes down and figure out the reasoning behind it. Once you find out the cause, it's much easier to treat.
Personally, I break out hormonally every month and once in a while I'll get a bacterial breakout when I don't wash my face properly. My favorite products to treat acne are the Sunday Riley Luna Sleeping Night Oil ($55; Sephora), which keeps my hormonal acne at bay, the Clinique Acne Solutions Acne + Line Correcting Serum ($45; Sephora), which I use when get the occasional bacterial breakout, and the EradiKate Acne Treatment ($26; Sephora), which I use to spot treat and makes the blemishes go away pretty much overnight. It's magic.
(Editor's note: Hormonal acne may be cured with a prescription drug called Spironolactone. Mine costs $10 a month, and since beginning treatment with it three years ago, I've never gotten a real pimple or experienced any side effects. My skin is also less oily than it used to be.)
5. Is It Really That Bad If You Wear The Same Makeup For Three Days Straight (Totally Asking For A Friend, Not Asking For Me At All, Yeah Def Not Me Oops)?
Yes.
6. How Bad Is It Really To Sleep In Your Makeup?
It's not great to sleep in makeup, and here's why: as we sleep, our skin is trying to repair itself. Fresh new plump skin cells are being pushed upward, and dead cells are released from the skin's surface. Wearing makeup while you sleep impedes upon that process, trapping the dead skins cells and preventing them from sloughing off. Even if it doesn't result in blemishes, your skin will look less radiant, more dull, and much more mature. If you don't believe me as an MUA, then listen to this actual doctor. She says the same thing.
I recommend using micellar water on your tired days. Micellar water will remove makeup and cleanse your skin without requiring you to get up and go to a sink. I keep one, along with a stack of cotton rounds, by my bed just in case. My favorite lately has been the It Cosmetics Miracle Water 3-in-1 Glow Tonic ($38; Sephora). The bottle is gigantic and the micellar water inside also doubles (and triples) as a toner and essence. Garnier also makes an excellent micellar water, and it's available at the drugstore.
7. Why is my skin so dry no matter what I do?
Good question, dude. It's hard to pinpoint the exact reason without knowing the whole skincare routine, and/or the things you've tried in the past, but here's some general advice to treat chronically dry skin.
8. Honestly Just Tell Me What Korean Skincare Products To Buy.
Alright, here are some of my tried and true faves: The Too Cool For School Egg Cream Hydration Sheet Mask ($6; Sephora), The Dr. Jart Cicapair ™ Tiger Grass Color Correcting Treatment SPF 30 ($52; Sephora), The J.ONE Jelly Pack ($42; Sephora), The Erborian Solid Cleansing Oil ($39; Sephora), the Belif The True Cream Aqua Bomb ($38; Sephora), Glow Recipe Watermelon Glow Sleeping Mask ($45; Sephora), Laneige Lip Sleeping Mask ($20; Sephora), Too Cool For School Pumpkin Sleeping Pack ($20; Sephora), the Neogen Dermatology Bio-Peel Gauze Peeling in Lemon ($27; Sephora), Shangpree Marine Energy Eye Masks ($30; PeachandLily), Holika Holika Pig Nose Clear Blackhead 3-Step Kit ($3; peachandlily.com), Caolion Blackhead Steam Pore Pack ($38; PeachandLily), Maycoop Raw Sauce ($33; PeachandLily), Babyfoot Original Exfoliant Foot Peel ($25; Ulta), and the SKINFOOD Black Sugar Mask ($10; Sokoglam). Ya know, a sensible list just to get you started.
9. Does Makeup (And Skincare) Go Bad And, If So, When?
Have you seen this symbol before? This little open makeup container is somewhere toward the bottom/back of most packaging and will tell you how long you can use it before it expires. The clock counts down from the second you first open the product and air hits the contents inside. That means, if you open a cream today, but don't use it for the next year, it will expire by the time you come back to it.
Will you die if you use expired makeup and skincare? Definitely not. However, the product inside might not be as active/work the same way. Plus, if you have sensitive skin, you might get breakouts. If you wear expired makeup, you're using it at your own risk.
Some products have an actual expiration date on it, like "1/18." Generally, that means there is SPF in the product that will definitely not work after that given date, but the product itself will still be safe to use. You'll just need to use an SPF with it.
10. Why Won't Chapped Lips Go Away No Matter How Much Lip Balm You Use?
So, not all lip balms are created equal. The ones with fragrances, coloring, menthol, phenol, and other possible irritants can actual make your lip condition worse. If this is the case for you, you will always be reaching for more lip balm, and it becomes a vicious cycle.
First, make sure you're lightly exfoliating the flakes off your lips before just applying a balm. You can do that with a lip scrub, DIY sugar scrub, or by gently buffing lips with a dry toothbrush.
Then, stick to products with high levels of hydrating ingredients, like Kiehl's #1 Lip Balm ($7; Sephora) and Bite Agave Lip Mask ($26; Sephora). This lip mask also contains high amounts of lanolin, which waterproofs your lips, locking the hydration inside. Vaseline ($5; Target) is also a safe bet if everything else is causing a stinging or burning sensation on your lips, but you might have to reapply often.
11. Is It True There Is Glass In Chapstick And It Cuts Your Lips?
What? Absolutely not.
12. Is There Any Way To Apply Lipstick On Really Chapped Lips Or Am I Just F*cked All Winter?
You can still wear lipstick! Just prep well with a really good lip balm first (see above), and opt for a non-drying formula. You might have to retire your liquid lipsticks until next year. Sorry, friend.
When you apply your lipstick, go with the grain of your lip skin. Avoid going back and forth over the same area too much. This will lift up the skin and the product will start to collect underneath and emphasize the dry texture.
13. How Do I Eat Food With Lipstick But Not Get That Stupid Line On My Chin?
Dude, it's an art. Try to take smaller bites and open your mouth super wide. The lipstick-chin situation happens when your lip bends backward when you're trying to eat something large, like a burger or an apple (get your mind out of the gutter). If you open your mouth super wide and break your meal down into smaller bites, you'll get no lipstick on your chin.
It takes some commitment, but it's 100 percent worth it when you're wearing red lipstick.
Now let's move on to some other makeup inquires.
14. Am I Doing My Makeup Correctly? lol
IDK, are you?
The good news is, there's no "correct" or "incorrect" way to do your makeup. Some makeup rules are in place to make your life easier but, when it comes to makeup, I always say do what you want as long as it makes you feel beautiful. If you like to wear blue eyeshadow with red lipstick because it makes you feel hot AF, then that's all that matters.
15. What Goes First, Blush Or Highlighter — Or Am I Wrong To Be Using Both At The Same Time?
You can totally wear both at the same time. The blush will give you a natural flush and the highlighter will give you a glow, which can make your skin look more hydrated than it actually is.
If you like a more natural glow, do the illuminator first and then the blush. For a highlighted-to-the-gawds look any YouTube beauty guru would be proud of, do your blush first and then your highlight. Blush goes on the apples of your cheeks, while highlighter should be primarily located in a C-shape from the very highest point of your cheeks to your brow.
16. Is It Bad To Put Eyeliner In The Inner Rim Of Your Eyes?
It's totally safe as long as the product is eye-safe. That means, if you use lipliners as eyeliner (as some of my makeup artist friends do), you might be causing some minor damage to your eye.
However, even if products are eye-safe, you might experience irritation if your eyes are super sensitive. So just pay attention to your body and don't torture it if it's clearly hating the makeup. A constant stream of tears would ruin a heavily lined waterline, anyways.
17. Why Do You Always Open Your Mouth When You Put Mascara On?
Generally, opening your mouth stretches the skin on your face a little more taut. That way, when you apply your mascara, you won't risk getting it on the skin around your eye area.
The body is smarter than we give it credit for.
18. How Come When I Put Makeup On I'm Still Ugly?
At the risk of sounding v kumbaya, no one is ugly. No amount of makeup will make you feel less ugly. That's something that needs to change internally. Everyone is beautiful, but that's a conclusion everyone must come to in his or her own time.
You're already a tasty snack. The makeup is just the whipped cream on top.
Editor's note: Sometimes when I get home from a night out and wash my face, I feel prettier than I did with makeup on. When I wear more than just a little makeup, I usually feel ugly. That's totally OK, and I wish someone had told me this back when I thought I had to wear a smoky eye to be pretty.
Now let's end with some eyebrow inquiries.
19. In General, Why Do I Sneeze When I Pluck My Eyebrows?
Maybe because it causing an itching sensation? TBH, I didn't know this was a thing.
20. Why Do I Have Holes In My Eyebrows?
Unfortunately, brows don't always grow in equally. That's just the way it is. Thank your parents for your genetics (I know I blame my thin AF brows on my mom). It's not fair, but it's life, so we deal.
Patchy brows can be filled in with product, professionally microbladed, or maximized with a growth serum.
21. What Do You Besides Cry When You Overpluck Your Brows?
Life's too short to cry over over-plucked eyebrows. They will grow back (eventually).
If it's only a little over plucked, use a tiny eyebrow pencil, like the Anastasia Beverly Hills Brow Wiz ($21; Sephora), and short little strokes that mimic actual brow hairs to fill in any areas that are lacking. If your brows were nearly waxed off completely, you might need something with more substance, like the Anastasia Beverly Hills Dipbrow Pomade ($18; Sephora), which will stick to the skin. Thank goodness for makeup.
22. Is It Weird To Brush Your Eyebrows?
Nah, dude! You do you. Especially if your hair is longer and you prefer to keep them directionally unified.
23. Should I Trim My Eyebrows?
If you have a lot of thick eyebrow hairs that won't behave and lay down flat, then totally go for it. It you have a lot of sparsity, don't. Longer hairs can camouflage gaps in the eyebrow.
24. What Is An Eyebrow Highlighter?
Think of it as highlighter for your hair. Eyebrow highlighters will add dimension and might make sparse brows appear thicker than they are. I always opt for a brow gel that doubles as an eyebrow highlighter, like the Anastasia Beverly Hills Tinted Brow Gel ($22; Sephora), which contains color and a little bit of subtle shimmer. Can you tell I love the ABH eyebrow line.
Products like Josie Maran's The Good Brow Fill + Chill boast a highlighter stick on one end and a brow pencil on the other, and these are meant to be used in tandem. The highlighter end should be applied just underneath your brows to visually lift them.
25. Do I really need primer?
If you feel like you don't need primer, you probably don't. But if you're aiming to get a solid 10-12 hours wear out of your foundation, primer is the best route. Plus, primers can do everything from blur pores to brighten to color correct redness. I recommend the Mally Beauty Perfect Poreless Primer ($35; Kohls) to impart a subtle glow and the Touch In Sol No Poreblem Primer ($18; Sephora) to minimize pores and score a velvet-y texture.