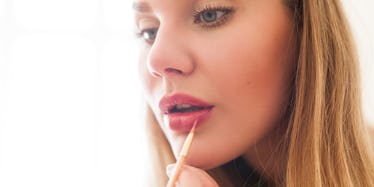 Heal Your Dry, Chapped Lips With A Beauty Hack That Costs Less Than A PSL
Winter is creeping into my life, slowly but surely.
Although my iPhone's weather app still reads 70 degrees, it's the inside of my body that's slowly preparing itself for the long, cold months ahead. First to go is my beachy tan, followed in short order by my health (ah, that first November cold) and my healthy lips.
Soon, they'll be chapped and dry, and I'll be lamenting my inability to wear any matte lipstick without looking like a literal mummy.
Am I preaching directly to you? If so, don't start panicking yet. You can buy every bottle of Warm Vanilla Sugar lotion from Bath & Body Works, but that'll mostly just set your credit card on fire.
Instead, learn to make your own solution with kitchen supplies. Dry skin and lips can't get you down if you're prepared.
Enter our DIY hero, the brown sugar lip scrub.
It's a common myth that you can restore dehydrated lips by simply smothering them in ChapStick. Moisturizing is great, sure, but you'll need to slough off all that peeling, dead skin first.
Dump a tablespoon of sugar into a bowl. I use brown, which is commonly known to draw moisture to the surface of the skin. But given that much of the brown sugar available in stores is really just white sugar with a tan (it's dyed brown), you really can't go wrong.
Sugar also contains glycolic acid, a kind of alpha hydroxy acid (AHA) that helps resurface uneven skin.
Now that you've chosen an exfoliant, you'll need a moisturizer to mix in.
Not only will this make your scrub spreadable, but it'll also help plump your lips until they're no longer crusty and dry.
I use soy milk because I already have it in my fridge. But if you already have a jar of coconut oil around the house and you're a moisturizing queen, then it'll also work once melted. Any kind of oil — olive, jojoba, Vitamin E — is helpful.
Pour in a tablespoon of your chosen moisturizer, and then mix your scrub with a spoon while trying to crush any sugar granules you can. The finer, the better.
At this point, you're ready to get scrubbing. But you have the option to take your scrub to the next level.
I've always self-identified as high-maintenance, so I relish the chance to make something unnecessarily complicated.
If you're a fan of scented candles, you'll live for this next step. Here's where you customize the scrub.
Adding in peppermint extract will leave you with a cooling sensation, while cinnamon and nutmeg mean you'll have a pumpkin spice situation on your hands.
Once that's done, scrub away.
Using a finger, rub the paste onto your lips in a circular motion. Let it sit for 30 seconds or so, and then rinse it away. Twice a week, every week will cure any lip problem you've ever had.
(Pro tip: I like to make my DIY mix in big batches and then use it on my entire body during a shower. It results in skin like velvet, albeit a bathtub that's been through the war.)