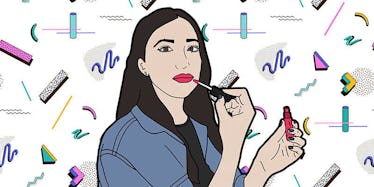 This Is The Best Liquid Matte Lipstick That No One Is Talking About
Kylah Benes-Trapp
Long before the matte lipstick trend was made popular by everyone's favorite (read: unavoidable) Jenner, Kylie, I was happy living in ignorance with my $2 deep berry hues from Wet n Wild.
Little did I know then that I needed matte lipstick to live my truth.
The idea behind it is genius: highly-pigmented color that dries without shine, so you can apply once and stay (hopefully) looking perfect throughout your night. Before, with my twist up stick, I just figured color spreading was part of the game when it came to wearing daring shades. But the best way to get the matte look is with liquid lipsticks that you can apply with a wand and pair with a liner to make sure you don't color outside the lines.
There are so many brands offering a matte lip, but when you're constantly bombarded with images and articles about the Kylie Cosmetics empire, you can't help but start to slowly convince yourself you need to try it out. So that's exactly what I did.
As a 25-year-old woman, I gave into a product being sold to me through a TEENAGER, and paid a total of $39 to get one lipstick and one lipliner shipped to my home (in a luxe black box that was probably worth $7 of the $39, by the way).
I mean, it's not like I could avoid it. After work, I logged on to Snapchat, hit Kylie's story and found her teasing the restock of her kits, which were available, like, now. Since it was such a #rare moment, I felt like I had to capitalize on my chance. One week later, I found Kourt K at my doorstep, and I have to say, I was a bit disappointed.
The real deal with the Kylie lip kit
The Kylie Cosmetics lip kit is everything everyone says it is. It smells like candy, it's a bitch to get off, you really do only need one swipe of it and, yes, all your friends want to borrow it. But what really prompted me to go through with the purchase of a coveted kit was the whole "it's a bitch to get off" part.
I love wearing dark shades when I go out at night, and through drinks and conversation, my lip color always ends up coming off or sliding around my face. I wanted something that was going to last the night with me, and it seemed this was the best option (or at least the most talked about).
But just because it's hard to get off completely doesn't mean it stays perfectly put when you're wearing it. My biggest qualm with the lip kit is that at the end of the day, it's really like all the others. It still rubs off when you're out at the bar, and you still have to reapply to avoid it coming off at the inner part of your lips.
Kylie was right when she said you don't need two coats of the stuff because when you swipe to reapply, the lip kit gets super gunky, and can even peel off a bit if you've added too many layers. It's not exactly the easiest thing to manage when you've had a few beers and you hit up your homies for a lipstick check.
The most underrated matte lipstick
A few other brands that come up into the mix when talking about matte lips are ColourPop, Jeffree Star and MAC, but for some reason, no one seems to have discovered the best matte lipstick option out there: Ciate's liquid velvet shades.
Ciate is the brand that made "caviar" nails a trend, but the London-based line has since expanded into cosmetics, including mascara, eye shadows, blushes and eyeliners.
My beauty editor friend gave me one of these shades a few months ago, but I didn't start wearing it until recently, given the obvious hype around the matte look. Every time I wear the bright, cherry red shade, someone asks me if it's a Kylie kit, so I thought I would spread the glorious news that OTHER LIP BRANDS DO EXIST, PEOPLE.
My favorite thing about the Ciate shades is that they are made with hyaluronic acid, which doesn't leave the color feeling as dry as other brands do. Also, when you reapply, the formula goes on easily and doesn't pile up or get gunky, so a touch up doesn't require a lot of struggle. These shades are only $19 at Sephora, and come in a range of nudes, reds and darker shades.
If you can't afford some of the pricier lippies out there, don't feel bad or feel like you need to give into the hype of a super-expensive option. A good matte lip is supposed to be a confidence-booster, and you shouldn't have to be worrying about the way the color is settling throughout the night, or worse -- losing it after shelling out big bucks for it.
My advice? Go with something that won't layer up. Being able to reapply easily is always better -- because you will definitely have to do it, no matter what lipstick you invest in.